Recruiting global communication partner after 6 years
Sri Lanka Tourism will launch a Rs. 200 million brand building strategy and recruit a top global communication partner after a lapse of six years, stated Sri Lanka Tourism Promotion Bureau Chairman Rohantha Athukorala on Monday.

Addressing the APOT.Asia (Asia Pacific On-board T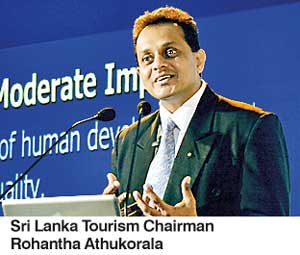 ravel) Forum at the Hilton Colombo, he said that this was in line with the marketing plan launched across key strategic markets globally in partnership with SLAITO and THASL.

This decision was taken on the direction of Minister of Sports and Tourism Naveen Dissanayake and with the approval of the Ministry and the Board of Directors of the Sri Lanka Tourism Promotions Bureau.
"I thank all who have worked tirelessly in the last four months to launch the search for the new global communication partner," added Athukorala.

Asserting that successful places focus on delivering emotional and social benefits and are concerned by how they make people feel rather than relying on lists, facts and details, he added: "We as destination marketers haven't been using all the tools available to us in today's world because we assume that consumers make decisions rationally."

"While the rational, or 'thinking' part of the brain does play a role, it's most often there to simply validate, or put into words a decision that our subconscious mind has already made for us. In order to reach the 'thinking' brain, our messages need to first pass the older parts of our brain, the parts that are far more primal and emotionally-oriented," said Athukorala outlining the thinking behind the DNA charting of tourism in Sri Lanka and the challenge for the communication partner as the country targets a new wave of tourists globally.

"Many places still try to promote themselves by using uninteresting lists of local attractions, businesses and services, whilst the new strategy will be more on the heritage and culture of the country, which is strongly linked to the people of the country. Let's see how things pan out. We want the new strategy to in place within three months, which includes production time," he noted.
Click here to read a full interview with the SLTPB Chairman Rohantha Athukorala