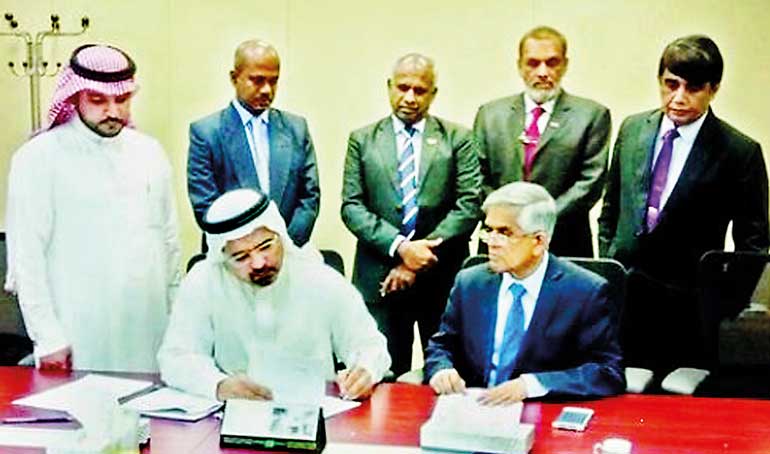 Saudi Fund for Development Adviser Abdulla Al-Shedokhi (left) and Secretary to the Treasury in

Sri Lanka R. H. S. Samaratunga sign the agreements in the presence of Sri Lanka Ambassador Azmi Thassim (standing second from right)
Riyadh: The Saudi Fund for Development (SFD) signed two loan agreements with Sri Lanka to assist the island nation in two projects, Arab News reported.

SFD Adviser Abdullah Al-Shedokhi and Secretary to the Treasury of Sri Lanka Dr. R .H. S. Samaratunga signed the SR 263 million ($ 70 million) agreement for the Mahaweli Left Bank Basin Development and the Wayamba University/Township Development Project.

The Mahaweli Left Bank Lower Basin Development Project is a proposal made by Minister of Irrigation and Water Resources Management Vijith Wijayamuni Zoysa at an estimated cost of $430 million, with the objective of providing irrigated water during two seasons for 4,000 acres of land including Kinniya and Kantale in Trincomalee and the Polonnaruwa districts.

Wayamba University of Sri Lanka (WUSL), which is located at Kuliyapitiya and Makandura with easy access from Colombo, Kurunegala, and Kandy, is a modern learning and research institution in Sri Lanka.

According to Sri Lankan Ambassador Azmi Thassim, the SFD has been instrumental in financing several projects in the island.

The construction of a bridge, which links the Eastern town of Trincomalee with Kinniya, a Muslim village, is beneficial to some 100,000 people living in Kinniya. The residents were using ferry as their mode of transport to come to Trincomalee, the northeastern capital of the island.

The Trincomalee-Batticaloa highway was also widened with the same funds allocated under the agreement.

Earlier, the Government of Sri Lanka signed two loan agreements with SFD to obtain partial financing for the $140 million rehabilitation of the A5 Road corridor from Badulla to Chenkaladi.

The A5 corridor is one of the major highways linking parts of the Central Province to Eastern Province geopolitical zones of the country, which carries the bulk of the traffic between Batticaloa and Peradeniya via Badulla.

Improvements to the A5 road corridor from Badulla to Chenkaladi would enhance access to markets and social infrastructure such as schools and hospitals and integrate isolated segments of the rural population into the overall economy, the Finance Ministry said in a short statement on Friday.