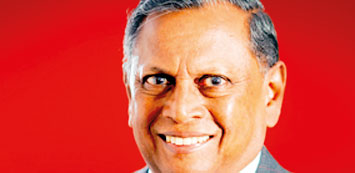 The Sri Lanka Insurance Corporation (SLIC) has bounced back with significant growth achieved in both general and life business in 2015.

It has further consolidated its leadership in the general insurance business which grew by 12% in 2015 while the growth in long term insurance was 27%. These achievements are significant considering the fact that in 2014 general insurance business grew by 10.9% and life by only 5.6%.

SLIC's overall market share in general business is now at 21% and nearly Rs. 500 million above the nearest competitor. SLIC's motor business has grown by 25% and is ahead of number two by a margin of Rs. 955 million.



In life business, SLIC's market share has increased by 1% to 20% thereby retaining its number two slot. Gross Written Premium in life was over Rs. 10 billion in 2015. (In 2014 the life insurance market share was 18.19% and in general it was 21.47 %.)

"We have grown above industry average in 2015 and the entire SLIC team is determined to grow further in 2016 and beyond. Our goal is to achieve a 25% market share in a few years time," said Hemaka Amarasuriya, who took over as SLIC Chairman in February last year.

In terms of its managed asset base, SLICs figure of Rs. 170 billion is the biggest including the largest life fund worth Rs. 74 billion. The state owned giant also enjoys a strong capital of Rs. 6 billion. Last year SLIC declared the insurance industry's highest ever bonus of Rs. 4.7 billion to its life policy holders of 2014. The quantum for 2015 will be determined next month.

The impressive turnaround at SLIC was not accidental. Whilst economic conditions were stable the insurance industry continues to be plagued by stiff competition. "SLIC has a well educated and experienced team. With the right motivation great results are possible," said Amarasuriya, who is a highly respected business leader having steered Singer Sri Lanka for several decades.

Amarasuriya is no stranger to the insurance business. Aside from being a customer of SLIC previously, he also served as Chairman of the then Eagle NDB Insurance (predecessor to AIA Sri Lanka) for two years when he held the post of Chairman NDB Bank Plc.

Noting that he accepted the invitation to serve as Chairman at SLIC in good faith as a way of giving back his private sector experience to a state owned entity, Amarasuriya acknowledged that the SLIC on its own is a very robust organisation. "Our 2015 performance is ample proof that SLIC can swim well in difficult waters," he added.

The overall long-term market has high prospects since insurance penetration is only 12% and SLIC has joined a welcome industry initiative to enhance positive awareness on the benefits of life insurance.

SLIC is powered by the most experienced technical knowledge with a staff of over 2,000 and over 10,000 advisors with a branch network of 126. "Staff and agents or advisors are the backbone of SLIC and they are being continuously motivated," the Chairman said adding that the team is also leveraging the strong brand of SLIC in its outreach marketing.

SLIC is currently in the process of streamlining the claim handling process and steps are underway to implement a new system which enables instant service. A revamp of SLIC's efficiency by introducing a comprehensive integrated IT system is also being pursued in 2016.

Over the years, the strong capital base, financial stability and proper reinsurance arrangements have paved the way for SLIC to make many historical milestones including honouring the largest claim ever to be paid in Sri Lanka of Rs. 39.5 billion. At present, around Rs. 450-500 million worth of claims are settled daily y SLIC.
SLIC awaits Govt. directive on segregation
State owned industry giant Sri Lanka Insurance Corporation is awaiting a proper Government directive over the regulator directed segregation of general and life business.

"We have written to the Government and are awaiting a directive," SLIC Chairman Hemaka Amarasuriya said.



The Insurance Board of Sri Lanka requires the hitherto composite insurance companies to segregate their general and long term insurance businesses by early last year. Apart from SLIC, three other entities are yet to segregate their businesses. The other three are MBSL Insurance Company Ltd, LOLC Insurance Company Ltd and Seemasahitha Sanasa Rakshana Samagama. The insurance industry includes 11 registered to carry on Long Term (Life) Insurance Business while 14 are registered to carry on only General Insurance Business.

Amarasuriya said that the SLIC has had various structures in the recent past including a process of privatisation and re-vesting to the State. "Since the Government is the shareholder a directive from the State is expected," he said adding that stability of SLIC and security of jobs of employees needs to be considered.

IBSL also requires insurance companies to be listed on the Colombo Stock Exchange and SLIC is awaiting a Government directive on this as well.