Sixth Asian Development Forum focusing on sustainable development begins in Colombo

Finance Minister Ravi Karunanayake yesterday expressed his confidence that Sri Lanka can be a model country for the UN's Sustainable Development Goals (SDGs).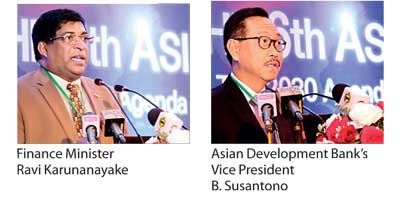 He made these comments during a speech he made at the inauguration of the sixth Asian Development Forum in Colombo.

The two-day event is focusing on "The 2030 Agenda for Sustainable Development: Voice from Asia." The Asian Development Forum was set up in 2010 to communicate development issues in Asia to the international community. The UN last year adopted its 2030 agenda and established 17 SDGs and 169 targets. The ADF in Colombo is discussing concerns of Asian economies over the implementation of the 2030 Agenda for Sustainable Development. Asian Development Bank's Vice President B. Susantono was also present.

In that context, Karunanayake said member states are urged to take necessary initial steps immediately to internalise the SDGs to their national development frameworks. However, this process will not be very pleasing for many developing economies due to their internal and external constraints such as limited economic and financial capacities, weak institutional structure, ambiguities in political and institutional directions in devising an implementation mechanism for the 2030 Agenda and much more.



Karunanayake updated the ADF gathering about the fundamental political change in Sri Lanka following the election of national unity government. "Under the new political setup, a holistic and balanced development approach is expected for the country rather than the development of specific sectors such as infrastructure," he said. "We believe that internationalisation of Agenda 2030 will be a good starting point for Sri Lanka to review existing policies, planning methodologies and setting national targets in line with both the SDGs and national development priorities to ensure a more holistic and sustainable development of the country," the Finance Minister said.

He recalled that President Maithripala Sirisena during his address at the UN General Assembly in August 2015 pledged Sri Lanka's commitment to achieving SDGs by 2030 with special focus on poverty alleviation (SDG1), achieving food security (SDG2), Energy (SDG7), Education (SDG4), minimising income disparity (SDG10) and urban development (SDG11).

Karunanayake also said Prime Minister Ranil Wickremesinghe in his economic policy statement in November 2015 also announced the country's economic strategy for development will be to improve the living standards of the people and make Sri Lanka the most open and competitive economy in South Asia.

"As such, the current general policy environment is shaped primarily by the new Government's declared intention of establishing a clean administration, restoration of democracy and taking the country rapidly towards upper middle income status. The main thrust and direction of its economic strategy is clearly indicated in the "Social Competitive Market" under which the economic advantages of competition to promote efficiency in the use of resources are combined with action to promote social equity.

"In this backdrop, I believe that Sri Lanka has a favourable and stable political leadership and is bestowed with human and economic potentials to initiate the 2030 Agenda successfully. However, there are financial and human capacity constraints we might have to look into and address to ensure the realisation of the 17 SDGs. Moreover, I believe that Sri Lanka has the potential to develop herself as a "SDG model country" in the future," the Finance Minister said.

He said that the South Asia region is the least integrated compared to successful Asian development stories such as China, Singapore and Malaysia. "We have much to learn," he said, adding that the sixth ADF will provide a platform for sharing international best experiences and identifying areas of support for developing nations to ensure timely accomplishment of the 2030 Agenda.