The Sri Lanka Freedom Party (SLFP) will request President Maithripala Sirisena and Prime Minister Ranil Wickremesinghe to "let Central Bank Governor Arjun Mahendran go " when his term ends at the end of this month.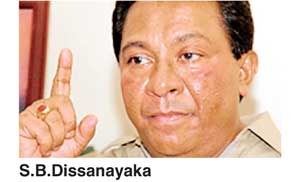 "His (the CB Governor's) term is coming to an end and we would like to request the President and the Prime Minister to let him go. It is in their best interest as well as the interest of the government," Minister of Social Empowerment and Welfare S.B.Dissanayaka said in Parliament yesterday.

The Minister said that at the meeting of the Committee on Public Enterprises (COPE) held on Wednesday, 'there had been some major issues centering on the CB Governor that had cropped up. There is a problem regarding this person.'

"The President during the general election campaign revealed that he had told the Prime Minister that Mr.Mahendran should be replaced. It was the suitable time for him to have left then," Dissanayake stated during the debate on the no confidence motion against Finance Minister Ravi Karunanayake.

Minister of Fisheries Mahinda Amaraweera too in his speech in Parliament said that the SLFP members have informed both the President and the Prime Minister on the need to act against the CB Governor.

"I handed a petition against him over to the Bribery Commission after he was appointed and I still stand by the same position despite being in Government. Our stance on this matter will not change," Minister Amaraweera said.