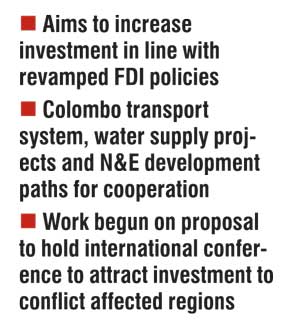 By Uditha Jayasinghe

The Japanese Government will continue its cordial relationship with Sri Lanka in 2016 with an economic policy dialogue in the first half of 2016 that will concentrate on improving Japanese investment in Sri Lanka.

The proposal was discussed during Prime Minister Ranil Wickremesinghe's visit to Japan in October and is a reflection of the economic growth seen in Sri Lanka during the last few years, embassy officials told Daily FT.

"Japanese investment increased steadily after the end of the conflict. Japanese investment in Sri Lanka has expended into new sectors such as finance and logistics. Both the leaders of Sri Lanka and Japan have decided to hold an Economic Policy Dialogue at the senior official level in the first half of 2016 as a framework to consider concrete measures for future enhancement of economic cooperation," Embassy official Yasuaki Ito said.



Japanese Foreign Direct Investment to Sri Lanka climbed to $37.6 million in 2013 from $19.3 million in 2009. Japan has also been the leading donor to Sri Lanka providing Rs. 1,550 billion since 1965 in the form of concessional loans, grants and technical assistance.

Japanese ambassador to Sri Lanka Kenichi Suganuma delivering a statement to mark the Japanese Emperor's birthday last week noted Japan is encouraged by steps to revamp the local investment climate and noted Japanese companies have a growing interest in Sri Lanka.

"We look forward to the various initiatives that are underway, such as the Megapolis project. Japan is a committed partner in supporting sustainable economic growth in Sri Lanka through our official development assistance and intends to continue to work with the Government," he said.

Some of the projects the Japanese Government hopes to cooperate on include the transport system of Colombo, transmission lines and water supply systems in Anuradhapura and continue assistance in conflict affected areas.

"Japan will continue to support Sri Lanka's efforts at national reconciliation and peace building. We are offering any assistance needed in establishing the four tier mechanisms for reconciliation planned by the new Government. We also started work on the proposal to hold an international conference to support the reconstruction of conflict affected areas and to discuss about several projects to develop its economy," he added.