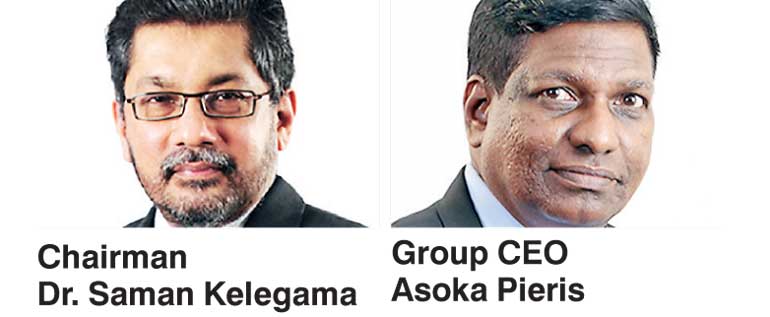 Group revenue increases 21% to Rs. 46.9 b
Group net profit increases 91% to Rs. 2.4 b
Singer (Sri Lanka) PLC yesterday announced excellent growth in results for the year ended 31 December 2016.

Group revenue increased 21% over the previous year to Rs. 46.9 billion and Group net profit increased 91% to Rs. 2,358 million.

The growth in Revenue and net income is primarily due to the significant initiatives and expansion undertaken by the Group including; the launch of Singer's own credit card with Visa; the launch of the new Singer Vista Smart TV range; the acquisition of Regnis (Lanka) PLC and Singer Industries (Ceylon) PLC and the expansion of Digital Media Corners in retail shops. The Group also continued its successful campaigns and launch of new models for most of its products and brands.

Singer (Sri Lanka) declared a dividend of Rs. 8.80 per share for 2016, an increase of 110% over the prior year, continuing its long history of robust dividend payments.

There was significant growth in all key product categories. Particularly, tablets grew by 105%, air conditioners by 57% and smart phones by 54%.

Singer (Sri Lanka) acquisition of majority stakes in Singer Industries (Ceylon) PLC and Regnis (Lanka) PLC were from its parent company Retail Holdings (Sri Lanka) B.V. [formerly known as Singer (Sri Lanka) B.V.] and resulted in a one-time gain on bargain purchase amounting to Rs. 564.5 million. Post-acquisition net income of these two companies are consolidated in the Group results of Singer (Sri Lanka) PLC. There was no increase in Group revenue due to this acquisition.

Group revenue in the 4th quarter increased 19% to Rs. 13.8 billion while net profit increased by 49% to Rs. 603.6 million.

The 2016 financial results in the case of Singer (Sri Lanka) PLC company only recorded an increase of 29% in net profit amounting to Rs. 1,112 million.

Commenting on the FY 2016 results, Group CEO Asoka Pieris stated: "We are pleased to report outstanding growth during 2016 and are optimistic that with initiatives underway the momentum will continue in 2017 and beyond. Singer Sri Lanka's strong commitment to maintaining excellence in product quality and customer service has resulted in enhanced customer perceptions bringing growth for the company."

Singer (Sri Lanka) Group is the largest retailer, financier and manufacturer of consumer durables in Sri Lanka. The company has 422 retail stores as well as an e-commerce platform. The company also serves over 2800 dealers/sub retailers. Renowned for its after sales service, the company has 14 service centres and over 300 service agents. Apart from its house brands, the company is a distributor for many well-known brands.

Singer commenced business in Sri Lanka in 1877 and is 79.7% owned by Retail Holding (Sri Lanka) B.V (a Netherlands company) and the shares of the company are publicly traded in the Colombo Stock Exchange.
Singer goes for 3:1 share subdivision
Singer (Sri Lanka) Plc yesterday announced a subdivision of its shares in the proportion of three for one held as at 31 March 2017.

The move will increase its issued ordinary shares to around 375.63 million from 125.21 million without affecting an increase in the state capital of the company which is Rs. 626 million.