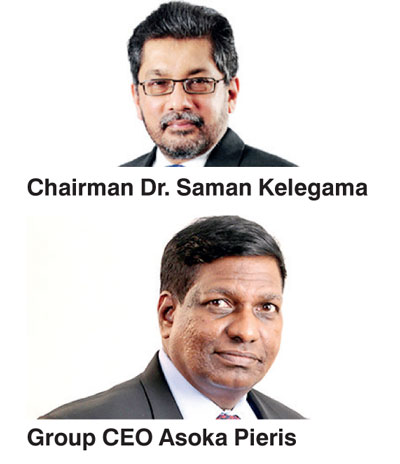 Singer Sri Lanka has ended the 2015 financial year with record growth in revenue and bottom line.

In a statement, Singer said Group revenue reached Rs. 38.7 billion, displaying an impressive growth of 30% when measured against the previous year. Group net profit surged to Rs. 1,236 million, an increase of 58% and net profit for the company surged to Rs. 859 million, an increase of 85%.

Group revenue and net income for the fourth quarter grew by 31% and 49% respectively.

The noteworthy figures are mainly due to strategic initiatives and expansion conducted by the group and an improvement in the business environment.

The initiatives included opening new shops, dealers and channels of distribution, improving and renovating existing shops, securing new brands and distributorships, introducing new products and improving processes, etc.



Despite the challenge of a sharp 5% devaluation of the Rupee in September, strong fourth quarter results were indicative of Singer Sri Lanka's strong market standing.

The company's product lines showed exceptional growth. This included its traditional core product lines such as refrigerators (25%), panel televisions (24%) and sewing machines (15%).

A surge in sales was also reported for new products including mobile phones (93%), deep freezers (82%), computers (50%), washing machines (42%) and air conditioners (33%).

Leveraging its new distributorships and brands including Dell, Sony, Sharp and Mitsubishi obtained in 2014 and 2015, the company experienced outstanding results for the year with sales notching Rs. 3.6 billion in 2015 compared to Rs. 0.8 billion in 2014, a mammoth 450% increase.

The company's listed subsidiary also performed well, contributing to the bottom line. Singer Finance (Lanka) Plc showcased a 5% increase in revenue, with a net profit of 24% for the year.

The company's new subsidiary Singer Digital Media Ltd., specialising in the sale of mobile phones and computers to the trade channel, reached Rs. 3.5 billion revenue to external parties.

With an aim of strengthening its corporate leadership, Singer (Sri Lanka) acquired controlling stakes of domestic consumer durable manufacturers Regnis (Lanka) Plc and Singer Industries Ceylon Plc from parent company Singer (Sri Lanka) B.V. during the 2015 financial year. These companies are now subsidiaries of Singer and promise to showcase even stronger results.

As the group sets its sights on new horizons, it is confident of its future success.