Pakistan's Prime Minister Muhammad Nawaz Sharif arrived in the Sri Lanka's capital Colombo yesterday on a three-day official visit at the invitation of Sri Lankan President Maithripala Sirisena.

Sri Lanka's Prime Minister Ranil Wickremesinghe received Prime Minister Sharif, accompanied by his wife, on his arrival at the Bandaranaike International Airport.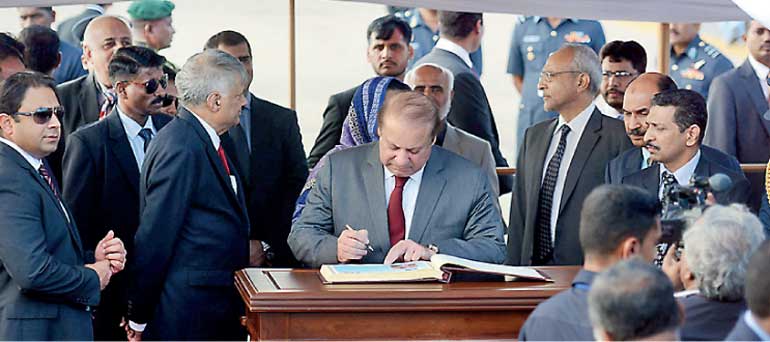 Pakistan Prime Minister Navaz Sharif signs the guest book upon arrival – Pic by Pradeep Pathirana


The Prime Minister will hold official talks with the Sri Lankan leadership on issues of mutual interest. President Sirisena will lead the official bilateral discussions with the visiting Prime Minister. The delegation for the talks will include Prime Minister Ranil Wickremesinghe, Cabinet Ministers and senior government officials. A number of MOUs/Agreements of cooperation in various fields would be signed after the talks.

President Sirisena will host a State Banquet and Prime Minister Ranil Wickremesinghe will host a lunch in honour of the visiting Prime Minister.


Several bilateral instruments in the areas of Health, Science & Technology, Trade, Statistics, Gem & Jewellery, Money Laundering & Terrorism Financing, and Culture are envisaged to be signed during the visit.

On the invitation of the Lakshman Kadirgamar Institute of International Relations and Strategic Studies (LKIIRSS), Prime Minister Nawaz Sharif will deliver a special lecture on "Sri Lanka-Pakistan Relations," at the Cinnamon Lakeside Hotel.

The Prime Minister will also address a gathering of ministers, parliamentarians, senior officials, top business persons and members of the Diplomatic corps.


During his stay in Sri Lanka, Prime Minister Nawaz Sharif will visit the historic city of Kandy. He will pay homage to the Sacred Tooth Relic, and will also visit a Muslim Mosque and the Jinnah Centre in Kandy. He will also visit the Peradeniya Botanical Gardens and will plant a "Karanda" tree (Pongamia pinnata) to commemorate his visit to Sri Lanka.