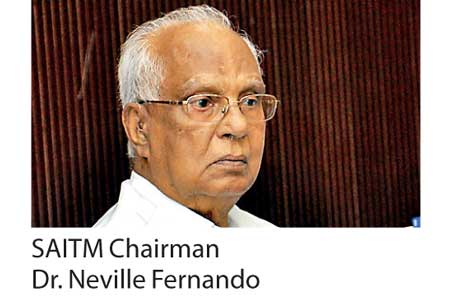 The South Asian Institute of Technology and Medicine (SAITM) said yesterday it would abide by the laws of the country and extend its fullest cooperation to the Government in order to formalise a just and expeditious solution for its MBBS students subject to Court proceedings.

"SAITM will also extend its fullest support to the Government's efforts in maintaining quality and standards in medical education of Sri Lanka," SAITM Chairman Dr. Neville Fernando said in a statement.

He said SAITM's mission was to complement the higher education sector of Sri Lanka by providing opportunities to qualified students as per the University Grants Commission and the Ministry of Higher Education regulations and standards.

The statement also said SAITM medical graduates were trained by a highly-qualified panel of academics consisting of 19 professors and over 70 senior lecturers that have served in State medical universities and State hospitals. Further the Dr. Neville Fernando Teaching Hospital (NFTH) is well equipped with state-of-the-art technology and consists of all relevant units needed for undergraduate medical training.

Last week the Government made its stand clear on the South Asian Institute of Technology and Medicine (SAITM) amidst widespread protests and strikes calling for the abolition of the controversial private medical college.

In a communiqué, the Higher Education Ministry Acting Secretary Jayanthi Wijethunga said the Government has taken the following decisions on the SAITM issue subject to the judgment of the Court of Appeal and the subsequent appeal to the Supreme Court as sought by the Sri Lanka Medical Council (SLMC).


1. SAITM students who have already passed the final MBBS examination will be given a further period of clinical training in surgery, medicine, gynaecology and obstetrics, psychiatry and paediatrics, one month each in duration, at the Homagama and Avissawella hospitals.

2. Subsequent to this training, candidates will undergo a mandatory examination conducted for granting provisional registration under the joint supervision of the SLMC and the University Grants Commission.

3. The Ministry of Health will gazette the minimum standards for medical education in Sri Lanka submitted by the Sri Lanka Medical Council with the approval of the Attorney General.

4. The Ministry of Health will initiate the proceedings to bring the Neville Fernando Teaching Hospital under the Ministry of Health and will continue to run as a Teaching Hospital.

However the Government Medical Officers Association (GMOA) which issued a statement rejecting the proposals made by the Government to solve the SAITM issue.