Development Strategies and International Trade Minister Malik Samarawickrama and Southern Development and Law & Order Minister Sagala Ratnayake with Exim Bank of China Chairperson Hu Xiaolian during their meeting in Beijing
Diving into relations with China, a Government delegation currently in Beijing is focusing on new development projects, including infrastructure linked to the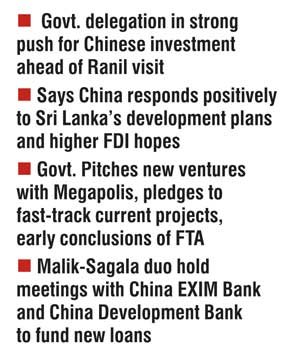 Megapolis venture, with fresh funds from Chinese banks and early completion of a Free Trade Agreement (FTA) between the two countries.

Development Strategies and International Trade Minister Malik Samarawickrama and Southern Development and Law and Order Minister Sagala Ratnayake along with Ambassador Karunasena Kodituwakku kicked off a visit to China this week ahead of a tour planned by Prime Minister Ranil Wickremesinghe in April.

The delegation held discussions with key Chinese banks including China EXIM Bank and China Development Bank, which have already lent significant amounts to Sri Lanka during the previous Government. Both sides had also discussed how cash flow and liability management of ongoing projects though details of specific projects under discussion were not released to the media. Sri Lanka's geographical sweet spot along the Maritime Silk Route was also reemphasised by the Government.

During the discussions Samarawickrama had assured the Chinese officials that current Chinese funded projects in Sri Lanka would be fast tracked and briefed them of ambitious ventures in the pipeline.



These included the planned "Economic Zone, ship repair project and airport development in Hambantota, extension of the Southern Highway; Kandy and Ratnapura Expressways as well as waste water projects," a statement released by the International Trade Ministry said.

A slew of new projects were also discussed between parties, mostly pertaining to the Western Region Megapolis project, which is the kingpin of the current Government. Projects included elevated highways, light railway and utilities. Cabinet this week also approved two elevated highways connecting Kelaniya to Colombo Port and Kelaniya to Rajagiriya.Other sectors for joint ventures were real estate, both housing and commercial. The two Chinese banks were invited to fund these projects.

The proposed International Financial Centre or financial hub included in the Budget could be an additional platform for the internationalisation of the Yuan, which was recently made a reserve currency by the International Monetary Fund (IMF), the Sri Lankan delegates had told Chinese officials.

"Discussed the importance of the early completion of the FTA with China which would give Sri Lanka preferential access to a market of three billion people as it already has preferential trade agreements with India and Pakistan. Both sides recognised the benefits that can be leveraged through the positive relationship between trade and investment," the statement added.

Tourist arrivals from China, which has already become the second most lucrative source for travellers, were also encouraged by Samarawickrama.