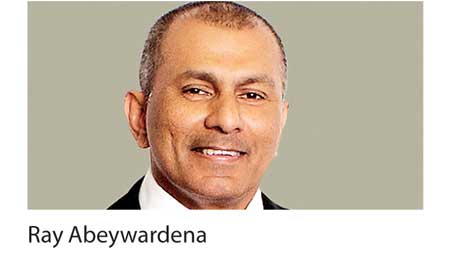 Becomes first trainee broker to ascend to the helm of capital market developer
Capital markets veteran Ray Abeywardena has been appointed the Chairman of the Board of Directors of the Colombo Stock Exchange (CSE) with effect from today.

Abeywardena succeeds Vajira Kulatilaka, who steps down as Chairman on the conclusion of the customary three-year term.

The appointment comes at a momentous time when the CSE is on the rise after languishing in negative territory for two years with record net foreign inflows of Rs. 16 billion so far this year.

Abeywardena entered the stock market industry as a Trainee Stockbroker at Forbes and Walker Ltd. in 1986 one year after a formal stock exchange was established in Sri Lanka and then called the Colombo Securities Exchange. The Bourse came to be known as the CSE in 1990 while the trading of shares in Sri Lanka has a history of over 120 years.

Abeywardena who is believed to be the first trainee broker to be appointed as CSE Chairman, was first elected to the CSE Board of Directors in 2013. He is expected to assume duties today after the final Board meeting to be chaired by Kulatilaka, who too did make a considerable contribution to capital market development in Sri Lanka during his tenure.

With over 30 years' extensive experience in the Lankan capital market, primarily as a Stockbroker and since 2009 as an Investment Banker, at present Abeywardena is the Managing Director of Acuity Partners Ltd.

Having begun his career as a Trainee Stockbroker in 1986 at Forbes & Walker Ltd, Ray progressed up the corporate ladder and was appointed the Managing Director of the firm in 1998. In 2001, he was instrumental in setting up DFCC Stockbrokers Ltd. and served as Managing Director/CEO of the firm. With the formation of Acuity Partners Ltd. in 2009, he was appointed CEO of the firm and since 2012 serves as the Managing Director.

Abeywardena has participated in many investment forums both locally and internationally and has served on various subcommittees of the Colombo Stock Exchange. He was appointed to the Board of Directors of the Colombo Stock Exchange in 2013 and presently serves on the subcommittees pertaining to Market Development, Risk and Audit and Rules. He is also a past Chairman of the Colombo Stock Brokers Association.

Abeywardena is presently the Chairman of Acuity Stockbrokers Ltd. and Acuity Securities Ltd. He also serves as a Director on the boards of Lanka Ventures Plc, Softlogic Life Insurance Plc, Guardian Acuity Asset Management Ltd, LVL Energy Fund Ltd. and the Central Depository Systems Ltd.

Abeywardena is a member of the Chartered Institute of Marketing (UK) and holds a Master's Degree in Business Administration from the University of Wales.