By Ashwin Hemmathagama Our Lobby Correspondent

The no confidence motion brought forward by the Opposition against Finance Minister Ravi Karunanayake will be taken up for debate on 4 July, House Leader, Plantation Industries Minister Lakshman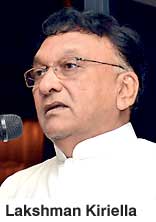 Kiriella, confirmed yesterday.

"We discussed this matter today at the party leaders' meeting and arrived at an agreement so it is not necessary to raise the same matter again in the House.
We have assigned 4 July for the debate and will not pick dates to suit you," said Minister Kiriella, responding to UPFA Parliamentarian Dinesh Gunawardena, who was eager to discuss the topic in Parliament yesterday.

"What is the reason for this delay? You can't postpone and select dates to your liking. Schedule the debate for the next sitting," Gunawardena demanded.