By Charumini de Silva

Foreign Affairs Minister Ravi Karunanayake yesterday spoke to the Sri Lankan business community and potential investors about the huge trade opportunity in the neighbourhood, insisting that Sri Lanka should not fear India.

Speaking at the full-day forum titled 'Growing with Giants', sponsored by Daily FT and the Colombo University MBA Association, Karunanayake called on local and foreign investors to utilise the Indo-Lanka free trade agreement (FTA) to capture the large Indian market through meaningful value addition processes. India and Sri Lanka trade opportunity is phenomenal. Let us basically trade within ourselves. We are importing from all other countries but not within the region. Let us start trade within our region and make a lasting impact," he added.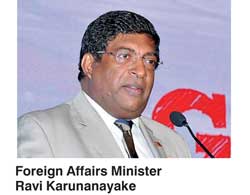 Karunanayake said that Sri Lanka should be what Hong Kong was for China to make a meaningful mark in the SAARC region.

"We live in an era of bilateral and multilateral trade and economic agreements with nations which broadly facilitate economic cooperation between countries. We want to leverage our trade ties with mighty economies like India and China that are driving the new world economy," he noted.

He spoke extensively about the renewed political and economic partnerships between India and Sri Lanka after the new administration took over in 2015, where both countries' leaders had cordial discussions and launched initiatives to strengthen cooperation.

"Indian Prime Minister Narendra Modi visits Sri Lanka to provide us with a sense of solidarity and guidance. It shows his personal interest and we know that we are in safe hands," Karunanayake said.

Pointing out that the Government was re-examining the Indo- Lanka FTA, he asserted that "fair trade is free trade, and not that free trade is fair trade."

The Minister promised that the Government would move to benefit from the opportunity that was before the country.

Although there was apprehension from the business community when the Economic and Technical Cooperation Agreement (ETCA) was initiated, he said what was being overlooked were the greater opportunities Sri Lanka can have with market access to 1.1 billion people.

"I want the Sri Lankan private sector to aggressively go forward to allow things to happen. Create that future to get it where we have got to move into. We need to navigate these fears that exist to the potential that is before us. Small does not mean that we need to set ourselves out and India realises this. That is why we need to ensure the best for both countries will happen."

With Prime Minister Ranil Wickremesinghe heading the economy, he said Sri Lanka also sets its standards high and was doing its utmost to address insufficiencies in the system.

Accordingly, the country is in a market, export and product diversification process to help boost Sri Lanka's export earnings from $ 11 billion to $ 20 billion coupled with service sector improvements. He pointed out that it was the lack of competitiveness of Sri Lankan exporters which caused exports to drop from $ 17 billion to the current $ 11 billion.

"Asia is in a production area. The Middle East and Africa are good material sources. The West is providing consumption and Sri Lanka is wonderfully placed to cater to this," he noted.

He said the Exchange Control Act will be debated next week and assured that the single window to approve investments will be implemented within the next two months.

"My firm belief is that in the next two months, the current 10-15 institution process will be put to rest. Whether it is local or foreign, it will be given approval within 12 working days. Led by Premier Wickremesinghe, myself, Mangala and Malik are adamant that we want to put this into place. I am sure with the committed people we are going to put together, it will be a reality," he stressed.

Noting that there was a perception that Indian companies were not given the opportunity to invest in Sri Lanka, he stated: "Now is the best of times. Before too long you will see absolute open trade taking place, certain competition coming in, where what they produce can be used for the advantage of Sri Lanka for export, import and to be partners."

Acknowledging that the BOT concept was going into the future where PPPs will help irradiate unwanted expenditure in the areas with lethargic processes, Karunanayake outlined airports, expressways and the energy sector as areas for Indian companies to partner in developing.

Saying that 20% of India's aid is made up of grants, he said: "I hope that component can be increased in the future considering the high public debt we inherit."

In conclusion, Karunanayake said the country's new foreign policy also considered commercial diplomacy where Sri Lanka will be friends with all, but enemies with no nation.

We Sri Lankans have to think out of the box and utilise this opportunity and take a lead in the region, he declared.