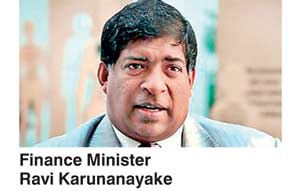 Finance Minister Ravi Karunanayake yesterday denied Chinese Ambassador's statement that the previous regime obtained loans at a 2% interest rate.

Karunanayaka told journalists in Kandy that if China had given loans at an interest of 2% then Sri Lanka would be ready to pay those loans back at the same rate.

Lashing out at comments by Ambassador Yi Xianliang to journalists on Tuesday as exclusively reported by the Daily FT on Wednesday, where the envoy was critical of allegations by coalition Government members regarding how expensive previous regime's borrowing was, Karunanayake said that all efforts have been taken to reduce loan interest and save money.

"I reject his (Chinese envoy's) statement. I am not the Chinese Finance Minister; I am the Sri Lankan Finance Minister. I cannot help it if corruption is being exposed now. We are making every effort to reduce the rates. If China is clean, then why are they concerned?" Karunanayake questioned.

"We have taken loans at a 2% interest rate from institutions like ADB, IMF, World Bank and JICA."

Striking back at the Chinese Ambassador's comments, he flatly rejected the criticism levelled against him for speaking of corruption.

"If I should not speak against corruption then who should," an annoyed Karunanayake questioned. He added that the Government will continue to work for the benefit of the people of the country and that despite being small in size; Sri Lanka is still a sovereign country.

Karunanayake also said that he will make a more detailed statement on the remarks made by China's Ambassador at a later date.