Prime Minister and UNP Leader Ranil Wickremesinghe and the party's General Secretary Minister Kabir Hashim both took strength from a massive crowd at their party's May Day rally to emphasise that they were ready for any election and would form the next Government as well.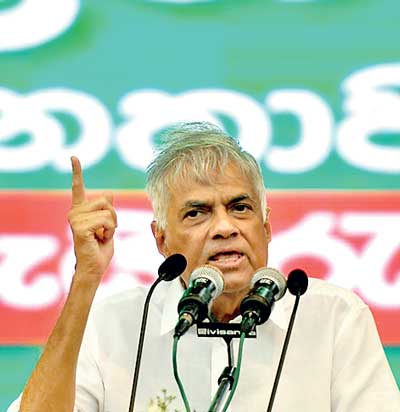 "When I look at this large crowd, it confirms the UNP is ready for any election, any challenge," said the Prime Minister.

He said in 2015, a bankrupt economy had to be inherited with a massive debt burden. The focus of the Government is to stabilise and develop the economy. "This we have done within a year and we will not allow anyone to stop the country's forward march to create jobs, income for the people," Wickremesinghe emphasised.

Wickremesinghe stated that the win which President Maithripala Sirisena sustained was a great achievement considering the fact that two leading political parties were given the opportunity to represent themselves in the decision-making of the country.

Wickremesinghe stated that the trade concession the country received via GSP+ will create 6,600 additional imports to Europe.

Wickremesinghe expressed his interest to make Sri Lanka a central point for sea and air travel and to set up many hotels around the country to help boost the tourist industry of the country.

He added that discussions have been held with China, India, Japan and Singapore for the development of the country.

The Premier also pledged to deliver one million jobs and boost the income of the people as well as bring justice for politically victimised UNPers under the previous regime.

UNP General Secretary Hashim in his speech said there was no threat to the Coalition Government as it was very stable. However, he said that the UNP was ready to face any election any time and the UNP will establish a Government by 2020 or earlier.