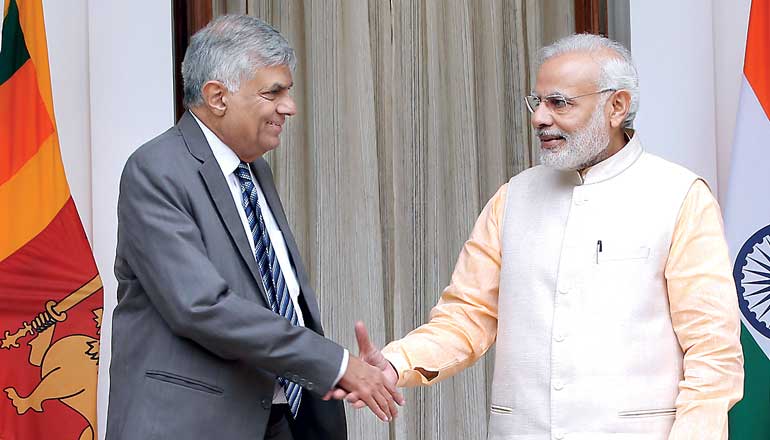 Prime Minister Ranil Wickremesinghe (L) shakes hands with his Indian counterpart Narendra Modi during a photo opportunity at Hyderabad House in New Delhi, India, 5 October- REUTERS
Prime Minister Ranil Wickremesinghe, who is in New Delhi on a three-day official visit to India, yesterday discussed with his Indian counterpart, Prime Minister Narendra Modi,the importance of maintaining a peaceful zone in the Indian Ocean region especially securing free maritime transport.

Prime Minister Modi hosted the visiting Sri Lankan PM and his delegation for a lunch in New Delhi.

During the discussion, the two leaders focused attention on the need for all the countries in the SAARC to contribute to the exercise to eliminate cross border terrorism and establish peace in the region, especially with the support of all parliamentarians in SAARC countries standing for peace to lay the groundwork for the effort.

Furthermore, the two Prime Ministers exchanged views on the methods and strategies to be followed by both parties for the sustainable development and peace in the region, and agreed that it is important to maintain the SAARC efficiently and effectively. They also focused on ways to overcome the future challenges the organisation is facing.

Prime Minister Modi said India and Sri Lanka have a unique relationship that goes beyond diplomatic norms and this friendship is a reason for expanding relations in different fields. Personal friendly relations between the two leaders and political leaders of the two countries also play a significant role, Modi added.

During the meeting, the two Prime Ministers exchanged ideas on procedures to be followed for the development and progression of several fields, including economy, security, law and order, trade, health and technical and industrial services.

The two sides also agreed to hold a high-level ministerial meeting under the leadership of the Ministers of Foreign Affairs and of Fisheries to reach a sustainable solution for the practical problems faced by the Sri Lankan and Indian fishermen. Accordingly, it was decided to a hold a high-level meeting on 5 November in New Delhi.

Prime Minister Wickremesinghe also invited the Indian Premier to participate as the Chief Guest in the national Vesak festival in Sri Lanka in May next year. Prime Minister Modi agreed to respond to the invitation soon.