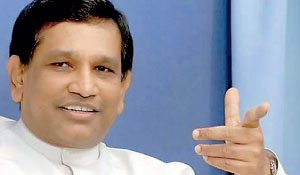 The private sector has joined the Health Ministry's dengue control campaign in the wake of a large number of reported deaths as well as a rising number of cases.
The number of individuals affected by dengue fever in 2015 was 29,777. In 2016 it was 55,154. Statistics for the first five months of 2017 show the number of affected individuals to be around 70,000 and the total number of dengue-affected individuals is expected to rise. According to the health sector the number of deaths has topped 150.
Dinesh Weerakkody, a Director of the National Health Development Fund, the coordinator of the project, this is an initiative thought up by Prime Minister Ranil Wickremesinghe and Health Minister Dr. Rajitha Senarathne to engage the private sector in the dengue awareness campaign of the Ministry of Health, given the challenges the ministry is currently facing with regard to the dengue problem.
Weerakkody said leading companies have all joined in to support the Ministry of Health's campaign.
According to medical professionals, the problem in Sri Lanka warrants urgent intervention and the State alone cannot eradicate dengue from the country.
Individual responsibility is very much higher than the State's. But the State's responsibility is considerable nevertheless in the areas of garbage collection and effective patient treatment. There are specific aspects that the public and the private sectors should take care of in order to control this scourge according to health officials.
Patient numbers double to 70,000 from 2015; death toll goes over 150
The private sector led campaign for dengue prevention and control is through a Private-Public Partnership according to Dr. Hasitha Tissera of the National Dengue Control Unit. According to the Ministry of Health, the expectations from the partnership will be to create awareness to prevent any late presentation to hospitals and achieve zero deaths, to reduce potential breeding places from 100% to less than 10% and to reduce positive breeding places from 50% to less than 5%.
According to Weerakkody, private sector companies can immediately help the effort of the Ministry of Health by conducting weekly inspections of the premises and having weekly cleaning days and displaying Ministry of Health material within their premises.