President Maithripala Sirisena yesterday pointed out the importance of streamlining and more efficiently implementing programs on waste management and dengue prevention.

All stakeholders should focus their attention as these issues do not belong to a certain political party or the Government but are issues related to the lives of all citizens, he said.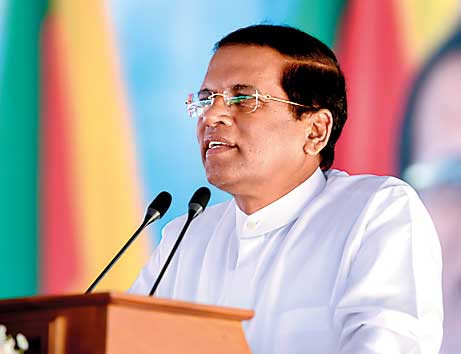 The President made these remarks while addressing the Gampaha District Health and Environment Conference held at the playground of the Sri Bodhi Vidyalaya, Gampaha. This is the second conference of the series of health and environment conferences organised islandwide at the district level. The first conference was held in the Colombo District.

Expressing his views, the President asserted that in some situations institutional problems had caused obstacles to waste management and the prevention of the dengue menace.

President Sirisena requested all stakeholders to join hands to implement these programs more efficiently and comprehensively considering these issues as problems for the entire country, while appropriately coordinating with relevant institutions.

The President requested all heads of institutions and Government officials to pay more attention to the circulars and instructions earlier issued by the Government on waste management and dengue eradication. He said that the people should also be aware of these matters.

Specialist Dr. Hasitha Thisera delivered a speech on the rapid inter-group program for the prevention and control of dengue. The Additional Secretary to the Ministry of Education S.A. Hewage delivered a speech on the implementation of environmental protection programs in the school system. Senior lecturer of the University of Moratuwa, Engineer Mahesh Jayaweera also delivered a speech on waste management.

Former President Chandrika Bandaranaike Kumaratunga, Ministers Arjuna Ranatunga, John Amaratunga and Sarath Fonseka, State Minister Ruwan Wijeywardene and Sudarshani Fernandopulle, Governor of the Western Province K. C. Logeshwaran, Chief Minister Isura Dewapriya, Member of Parliament Ajith Mannapperuma and the Gampaha District Secretary Sunil Jayalath were among those who were present at the occasion.

The President also visited Thakshila Vidyalaya in Gampaha and inquired about the school's shortcomings.

When the school's students requested him to provide a playground and a new building, the President promised to provide Rs. 5 million for that purpose. He also had a cordial discussion with some of the students.