Requests media to maintain high standards to ensure good governance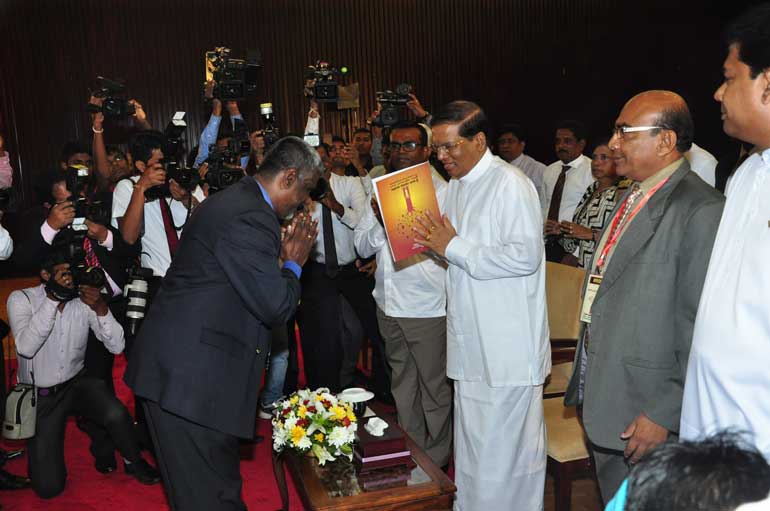 Sri Lanka Press Association National Organiser Upul Jayasinghe hands over a copy of the 60th Anniversary souvenir to President Maithripala Sirisena at the BMICH, Colombo. Media Minister Gayantha Karunatilaka, Deputy Minister of Provincial Council and Local Government Karunarathna Paranawithane and SLPA Chairman Muditha Kariyakarawana look on – Pic by Sameera Wijesinghe
By Waruni Paranagamage

President Maithripala Sirisena yesterday pledged to preserve press freedom in the country but emphasised the need for the media to maintain high standards of professionalism so as to ensure good governance.

Speaking at the Sri Lanka Press Association 60th anniversary celebration held at the BMICH yesterday, the President said journalists should exercise their rights towards the well being of the people and focus on providing accurate information in order to establish good social order in the country.

"Journalists have a responsibility to educate the people and guide them towards a better future. We will establish media freedom in the country and we hope journalists will establish a high quality media culture," he said.

The SLPA was established by the former editor of the 'Nawaloka' magazine Ven.Udakendawala Siri Saranankara Thero and senior journalist Hema De Silva on 9th October of 1955. The Association was supported by many senior journalists including D. F. Kariyakarawana and Meemana Premathilaka.

The Association offers to media personnel access to scholarships, organises official tours, conducts media courses and provides journalists support to enhance their career. President Sirisena said that the Government would support the Association for their future programs towards career development of journalists.

The occasion was graced by the son of the President of the Indian Federation of Working Journalists (IFWJ) K. Wishwadew Rao. Minister of Media and Parliament Reforms Affairs Gayantha Karunathilake, Deputy Minister of Provincial Councils and Local Government Karunarathna Paranawithane, Senior journalists, SLPA members and other distinguished guests also were in attendance.