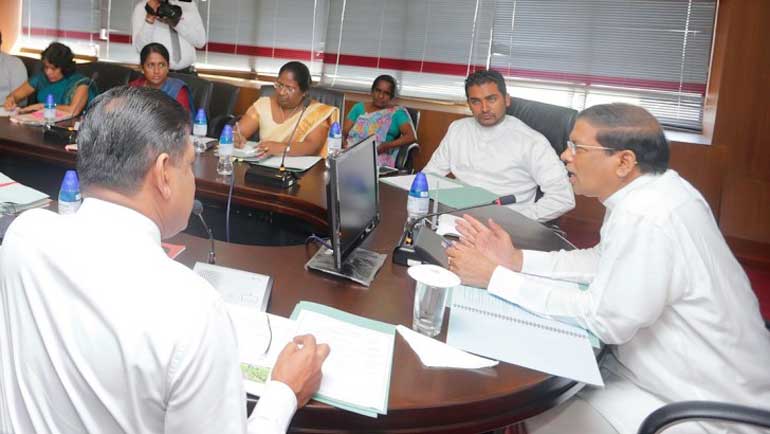 President Maithripala Sirisena has instructed officials to develop the Mahaweli farm lands to a profitable level in line with the National Program on Food Production.

The President revealed this while speaking at the progress review meeting of the Ministry of Mahaweli Development and the Mahaweli Authority, at the Mahaweli Auditorium.

President Sirisena, as the Minister of Mahaweli Development, inspected the performance of the Mahaweli Authority before taking part in this meeting.

Special attention was paid to reaching planned goals for 2016 in the Mahaweli areas, parallel to the National Program on Food Production.

President Sirisena stated that he would inspect the development work of Mahaweli farm lands separately, adding that he would make observation visits to those areas starting January, next year.

Identifying land issues pertaining to the areas belonging to the Mahaweli Authority as well as handing over land deeds to landless families were discussed in detail at the meeting.

Among the matters taken up at the meeting was a proposal to expedite development work of the Weli Oya area of the Mahaweli Zone B and to begin the resettlement process of the farming community in the Mahaweli Zone D at the Bisopura new development zone in Medirigiriya by 2016.

The President pointed out that the officials should be more committed to achieving the targets for the year 2016 while executing their duties efficiently and skillfully in the fields of Mahaweli, environment and forest conservations.



President Sirisena also looked into the progress of the drug prevention and kidney disease prevention programs being carried out in the Mahaweli area.

The President advised relevant officials to provide speedy solutions to matters relating to the schools in the area, and also enquired about the progress of the programs implemented to develop facilities in the area.