President Maithripala Sirisena yesterday said the Government would take steps to provide rice at a concessionary rate to the public by importing rice from other countries if the price of rice in the local market increased further as paddy production has decreased due to the recent droughts.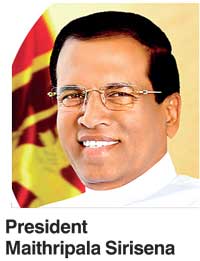 He made these remarks while addressing a ceremony held in the Polonnaruwa District yesterday.

The President recalled an article published in a national newspaper stating that the heads of the Government could not see the price of rice increase, and said that as a leader who came from an ordinary family and who knew the suffering of the people, he always acted in accordance with these experiences and would never allow the people of the country to starve.

There is a change taking place in many fields in the country, including in the social, economic and political spheres, under the present Government and the President emphasised that whatever challenges he had to face he would take forward this procedure with commitment.

President Sirisena also vested the Janadhipathi Adarsha Primary School, built in Palugasdamana, Polonnaruwa, with its students.
"Performing to provide similar educational rights to the children in all areas in the country, including the North Central Province, is one of the major plans of the current Government," he said. The President stated that earlier the Janadhipathi schools were limited to only a few areas of the country.

The President undertook a tour of the school's premises. He also launched the school's official website.

President Sirisena presented a certificate to Vishmanie Manuththara, a student of the school who demonstrated skills at this year's provincial drawing competition.

Chief Minister of the North Central Province Peshala Jayarathne, State Minister Vasantha Senanayake, State Minister Sampath Sri Nilantha and the Principal of the school Priyanga de Silva were among those who were present at the occasion.