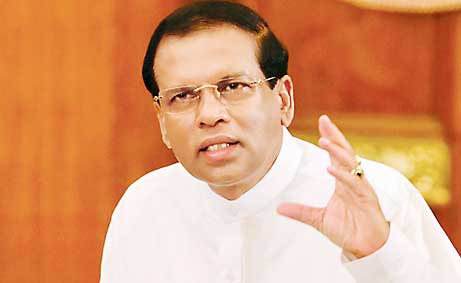 President Maithripala Sirisena yesterday issued a statement denying allegations of corruption raised by the Australian media and ordered the Attorney General to probe the matter further.

The President stated that he had no connection whatsoever to the incident described. "President Sirisena emphasises that during his political career, he had never indulged in any form of corruption or malpractice or encouraged or involved in any such activity," the statement issued by the President's Office said.

It said the President diverted his personal attention to the report published on 24 August in the Australian website Sydney Herald which cited an alleged incident involving an employee of his office during his tenure as Minister of Agriculture and Agrarian Services.

The Daily FT yesterday reproduced a report which appeared in www.theage.com.au which referred to two Australian companies embroiled in bribery scandals that extended into the offices of the Presidents of Sri Lanka and the Republic of Congo, as the firms sought to secure multimillion-dollar contracts.

See also http://www.ft.lk/article/563708/UPDATED--Australian-firms-linked-to-bribe-scandals-in-Sri-Lanka.