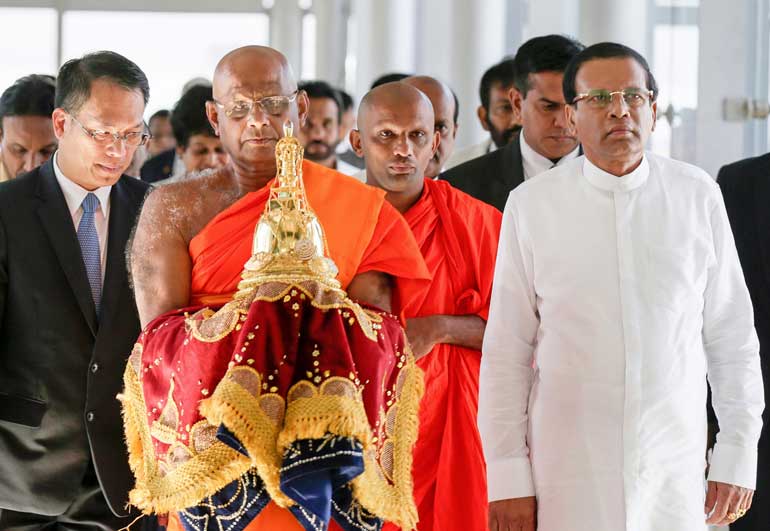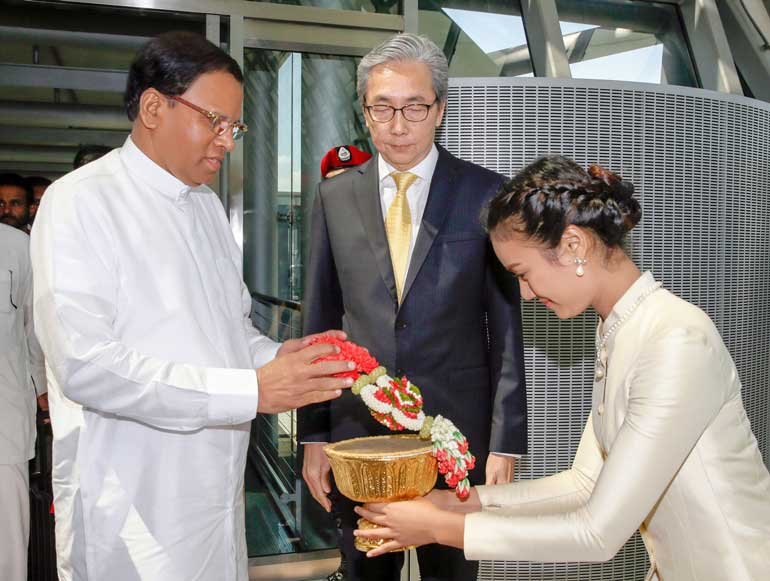 President Maithripala Sirisena yesterday commenced a four-day state visit to Thailand on an invitation extended by the Prime Minister of Thailand General Prayut Chan-o-cha to participate in the ceremony to mark the 60th anniversary of the diplomatic relationship between Sri Lanka and Thailand.

Vice Prime Minister of Thailand Somkid Jatusripitak welcomed President Sirisena, who arrived at the Suvarnabhumi Airport in Bangkok today. The Sri Lankan President was accorded a Guard of Honour at the airport.

Foreign Affairs Minister Mangala Samaraweera and other diplomats were also present at the airport to welcome the President.

The President participated in special religious observances organised at the airport to receive Sacred Relics (Sarvagna dhathu) from the Mahiyangana Rajamaha Viharaya taken from Sri Lanka to Thailand for exposition at the Buddhamanthan Temple and received the blessings of Thai Bhikkus.
Speaking at the gathering, President Sirisena thanked the Thai Government for the invitation. The Vice Prime Minister of Thailand thanked the Sri Lankan Government for giving the country a rare opportunity to pay homage to the Sacred Relics.

Later President Sirisena met the Sri Lankan business community in Thailand. He exchanged views with them and discussed their problems. The President requested them to join in the journey to make Sri Lanka a developed country.

During his visit, the President will hold discussions with the Princess of Thailand and the Prime Minister. The discussions will focus on strengthening the Buddhist relationship between the two countries.

President Sirisena will also declare open the exposition of the Sacred Relics at the Buddhamanthan Temple in Thailand on 3 November.

The Sri Lankan President's delegation to Thailand also includes Primary Industries Minister Daya Gamage, Central Province Chief Minister Sarath Ekanayake and Southern Province Chief Minister Shan Wijayalal de Silva.