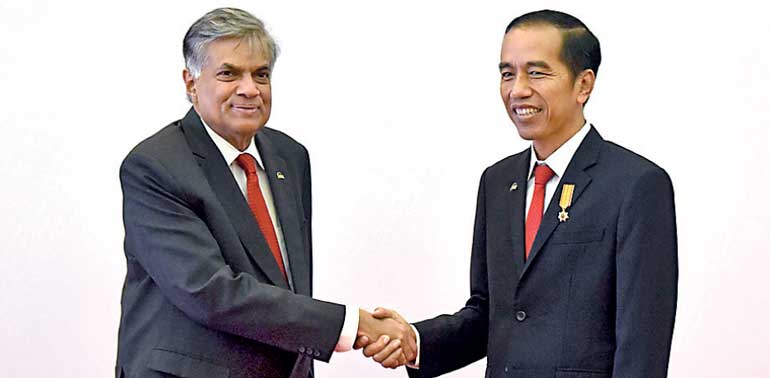 Prime Minister Ranil Wickremesinghe with the President of Indonesia Joko Widodo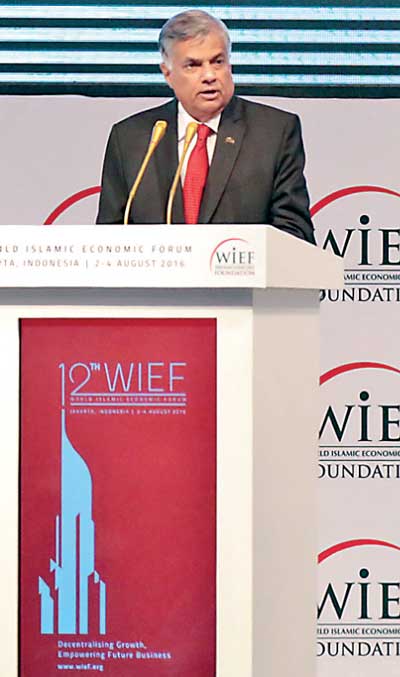 Prime Minister Ranil Wickremesinghe says the National Government comprising the two main political parties under the leadership of President Maithripala Sirisena is committed towards not merely Political Stability, but also Economic Stability.

The Premier delivering the keynote address at the opening session of the 12th Islamic Economic Forum in Jakarta today said with the hope of becoming the economic hub of the Indian Ocean, Sri Lanka's action plan is to introduce to a large database of products and large-scale economic reforms for infrastructure.
Prime Minister Wickremesinghe said the government will forge ahead with the plan to ensure free trade and will take effective steps in future with regard to open market policy.

He said the Sri Lankan government has taken measures to regain the GSP+ facility by engaging in useful discussions with the European Union and the government expects to reach several bilateral agreements with key markets in the world.

He said Sri Lanka and India will sign the Economic and Technology Cooperative Agreement by the end of this year and also enter in to a free trade agreement with China next year, while discussions are being held with Singapore officials to establish a free trade agreement.

The Sri Lankan government also expects to seek the support of Japan in the economic development process.

Wickremesinghe said Sri Lanka will also create trade investment links with the countries surrounding the Bay of Bengal including India, Malaysia, Thailand and Myanmar.

Sri Lanka will also find ways and means to establish trade links with America and Britain. The Prime Minister said this will ensure that the path is drawn to claim free trade according to global trends.

The Premier also called for removing the trade barriers between nations in Africa, the Middle East and Asia.

"In an era where issues such as social justice, equality in the market economy and religious extremism are prevalent, the fertility of our nations now hinge upon us having an open dialogue and a willingness to compromise while keeping our historical trade backgrounds, multiple effects of globalisation, our unique religious ethics, practices and cultures and the current challenges and opportunities in mind.

"The principal factor leading to the growth of the Asian region is to expand Inter-Asian Trade in the next century. We can see important steps to removing the barriers to Inter-Asian Trade taking place over the next decade," he said.