Says better option under Constitution, Budget vote a sign of confidence in Govt.
By Ashwin Hemmathagama – Our Lobby Correspondent

Prime Mini-ster Ranil Wickremesinghe yesterday proposed to appoint a Parliament Select Committee to investigate the charges made by the Opposition against Finance Minister Ravi Karunanayake instead of moving the no-confidence motion.

Outlining the limitations in the Constitution to move a no-confidence motion against the Finance Minister after passing the Appropriation Bill, he said: "The Budget is sighted as a mode of placing trust in the Government, according to our Constitution. If the Budget is rejected the Prime Minister and the Cabinet will have to resign. Passing the Budget is placing trust upon the Cabinet, who is equally responsible and the finance authority vested with the Parliament."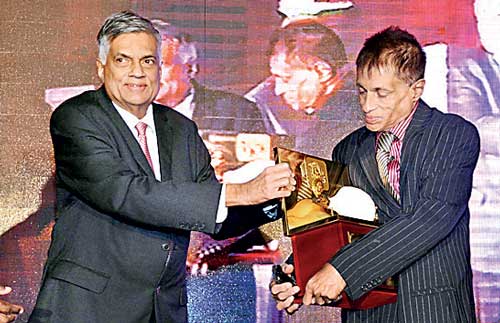 "Enough time is made available to adopt changes during the Committee Stage Debate after a Minister of Finance present the Budget speech in the parliament," he said.

"With the final vote taken the entire Budget process ends. Even according to our Standing Orders nothing can be brought against the Finance Minister on Budget. We have no issue facing a no-confidence but have to respect the Constitution first. We will consider a no-confidence motion if you have anything else against any other Minister but can appoint a Select Committee," added PM Wickremesinghe.

However, UPFA MP Vasudeva Nanayakkara, who was disgruntled over not being able to finalize a date to move the no-confidence motion, urged the Speaker to decide the date for the debate. In response Speaker Karu Jayasuriya held that the Party Leaders have decided to have the further discussions, next January to decide the date.

Chief Opposition Whip and JVP MP Anura Kumara Dissanayake bringing up the examples challenged the reasons to exempt Minister of Finance from a no-confidence motion but taking refuge under the Appropriation Bill.

"It is wrong to consider both the no-confidence motion against the Finance Minister and the Budget 2016 together. A separate election was held in this Parliament to pass the Budget 2016. But the same will not judge the possibility of bringing a no-confidence motion against the Finance Minister. Let's take an example where a bill gets passed in the Parliament moved by the Justice Minister. So, passing that bill will not safeguard the Justice Minister from a no-confidence motion nor would it prevent from bringing a no-confidence motion," he said.