Prime Minister Ranil Wickremesinghe said yesterday the government hopes to adopt the new constitution before the 70th Anniversary celebrations of the Parliament next year.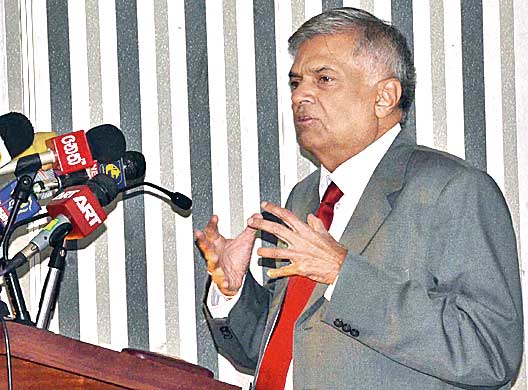 Addressing a Seminar on Constitutionalism held for the Members of Parliament at the Water's Edge in Battaramulla, the Prime Minister said the parliament will have the opportunity to celebrate the 70th anniversary in 2017 and he hopes to have an opportunity to approve a new Constitution that is accepted by the citizens of the country before that.

The Prime Minister, explaining the process and purpose of the Constitutional Assembly, said the entire Parliament will convene as a Constitutional Assembly to draft a constitution and submit the report for the approval of Parliament. The Assembly has been formed and the Steering Committee will be appointed on April 5th.

The Premier said the public has approved a new Constitution ensuring the unity of all Sri Lankans. The people of this country voted on January 8 to elect President Maithripala Sirisena to consolidate democracy and to safeguard people's rights. This mandate was further established at the general election held in August last year, the Premier said.

He said the new constitution will not be prepared based on the opinions of the single party. "There are no drafts known as the United National Party or the United Peoples Freedom Alliance," he said.

The Premier said the prime objective of the new Constitution is to introduce a new voting system. He pointed out that the basic component of a constitution is safeguarding the people's supremacy. It should also establish Sri Lankan identity, universal franchise, the basic rights of the people, and the supremacy of the law.

The Prime Minister added that with the appointment of the main committee, steps will be taken to implement the proposals of the committee appointed to seek public opinion on the drafting of a new constitution.

Another objective of the next stage of the program of the process is to come to an agreement on a new electoral system. This phase will also focus attention to determine the tasks of the legislature and also on the devolution of power without causing any harm to the country.

Speaker Karu Jayasuriya, U.S. Ambassador to Sri Lanka Atul Keshap and a large gathering including Parliamentarians were present at the Constitutionalism seminar organised in collaboration with the USAID.