Reuters: Pakistan's Supreme Court disqualified Prime Minister Nawaz Sharif from office on Friday over undeclared assets, plunging the nuclear-armed South Asian nation into political turmoil after a period of relative stability.

Sharif swiftly resigned but in a statement his spokesman said there were "serious reservations" about the judicial process after the court ordered a criminal probe into his family over allegations stemming from the "Panama Papers" leaks of international offshore companies.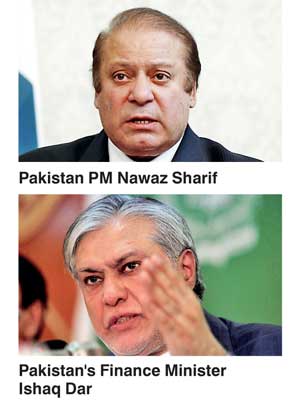 Sharif's ruling Pakistan Muslim League-Nawaz (PML-N) party, which won a majority in parliament in 2013, is expected to name a new prime minister to hold office until elections due next year.

Among possible allies to replace Sharif are Defence Minister Asif Khawaja, Planning Minister Ahsan Iqbal and Petroleum Minister Shahid Abbasi.

The incoming leader will have to tackle worsening ties with the United States, frayed relations with arch-foe India, and persistent threat from Islamist militants.

The economy is benefiting from vast investment from China, but economists are sounding alarm bells about falling currency reserves and dwindling exports.
The ouster of Sharif, 67, who has now served as premier on three separate occasions, also raises questions about Pakistan's fragile democracy. No prime minister has completed a full term in power since independence from British colonial rule in 1947.

The court verdict marks a major political victory for opposition leader Imran Khan, a former cricket star who last year threatened mass street protests unless Sharif's wealth was investigated. Khan had pounced on the leaking of the Panama Papers, which revealed Sharif's family had bought posh London apartments through offshore companies.

"Today is a victory day for Pakistan," said Khan. "Today onward, big thieves will be caught."

Khan himself is also under Supreme Court investigation on allegations he failed to declare sources of income, a charge he denies.

The court also ordered a criminal investigation into the assets of Finance Minister Ishaq Dar, one of Sharif's closest allies, who has been credited with steering the economy to its fastest pace of growth in a decade. Earlier state-run TV and other media reported Dar had been disqualified.

Sharif has alleged a conspiracy against him, although he has not named anyone. His allies, however, have privately spoken of elements in the judiciary and the military, with whom Sharif has strained relations, acting against him. The army denies any involvement.

The Supreme Court's five-member panel ruled unanimously that Sharif should be disqualified, enacting little-used Article 62 of the Constitution which allows dismissal of any lawmaker found to be dishonest. The court said Sharif failed to declare income from a company in United Arab Emirates ahead of the 2013 poll.

The court's decision follows a two-month probe by a Supreme Court-appointed panel that alleged the Sharif family could not account for its vast wealth.

"He is no more eligible to be an honest member of the parliament, and he ceases to be holding the office of prime minister," Judge Ejaz Afzal Khan said in court.

Sharif's allies say the court has overstepped its remit and point out that no charge of corruption or abuse of authority has been proved. Nor has he ever been convicted.

"Those who are happy and dancing will cry tomorrow," said Abid Sher Ali, a junior minister. "They have stabbed democracy in the back."

Prior to the decision, several cabinet ministers, including Sharif's closest allies, said the ruling party would respect the verdict.

"Go, Nawaz, Go," shouted supporters of the PTI opposition party who had gathered outside the court and jeered politicians from Sharif's party.

Analysts have warned that another bout of political turmoil would spook foreign investors, who are already reticent to invest in Pakistan, deterred by security fears and a tough business climate.

The benchmark stock index tumbled 3.4 percent after the announcement but then regained some ground. The index, which was one of the world's best performing in 2016, recorded major outflows during the two-month investigation into Sharif. The rupee currency, which is part of a managed float, has largely been stable.

"Democracy a Target"

Sharif has always denied any wrongdoing and has dismissed the investigation into him as biased and inaccurate.

"This is not accountability, it is revenge," tweeted Railways Minister Khawaja Saad Rafiq hours before the verdict. "In an effort dislodge us, the democratic system has been made a target."

Sharif's two previous stints in power were also cut short, including by a military coup in 1999, but he returned from exile to win a resounding victory in general elections in 2013.

The Supreme Court ruled in April there was insufficient evidence to remove Sharif from office - by a 3-2 verdict - but it ordered a probe by an investigative panel that included members of the military intelligence agencies.

The Joint Investigation Team (JIT) this month returned its findings in a 254-report that said Sharif's family assets do not match their earnings. The panel also accused his children, including daughter Maryam, of signing forged documents to obscure ownership of the London flats.

The Supreme Court's decision to include two members of the country's military intelligence agencies as part of the six-person JIT team had fuelled rumours Pakistan's powerful generals had a hidden hand in the probe against Sharif. The military, however, has carefully distanced itself from the proceedings.

Analysts expect Sharif to push for one of his allies to form a government until elections are held next year, when his brother Shahbaz, who is the chief minister in Punjab province, may take over the party leadership.

Maryam, who will now face a criminal investigation, tweeted photos of top PML-N leadership and said the party remains united.

"Today will pave the way for Nawaz Sharif's resounding victory in 2018. He will be unstoppable. Insha'Allah," she tweeted.