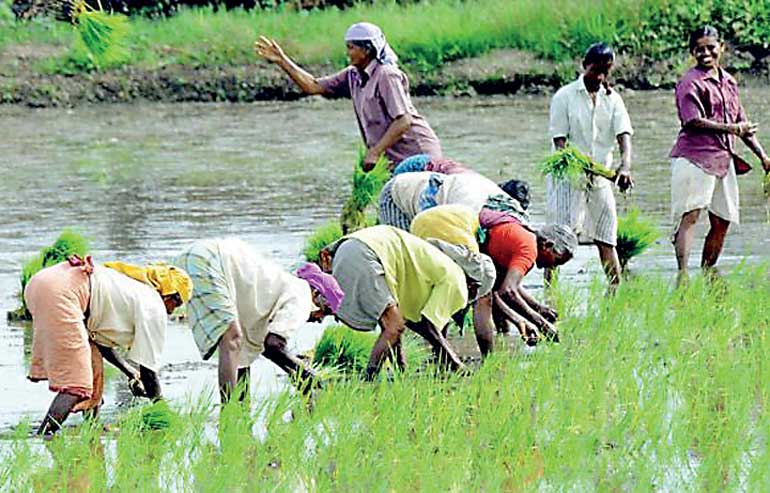 Agri official warns of tightening rice stocks from April as Govt. prepares for imports
Amidst the worst drought in five years, erratic weather patterns are herding Sri Lanka towards a sharp drop in rice production in the 'Maha' cultivation season in early 2017, an agriculture expert said, warning that more rice imports could be needed to meet the demand shortfall.

Water in key tanks in the North Central Province have failed to rise significantly resulting in only 30% or about 280,000 hectares of paddy land being sown for the all important 'Maha' season, which accounts for the bulk of Sri Lanka's rice production.

"During my career of 20 years, I have not experienced this kind of bad season. There was a drought in 2012 also but it was not so bad," Agriculture Department Agro-climatologist B.V.R. Punyawardena told reporters.

Punyawardena was speaking at a forum organised by the United Nations Development Program (UNDP) which has started a program to improve the ability of over 700,000 people living in the Malwatu Oya, Yan Oya and Mi Oya river basins to overcome weather changes though a new $ 38.1 million project under the Green Climate Fund.

Even Sri Lanka's 73 larger reservoirs, operated by Sri Lanka's irrigation department, do not contain enough water and can only spare enough water to maintain crops of about 30% of the usual extent. At a network of about 14,500 minor tanks, water was enough for about 10% of the cultivation, Punyawardena said.

Water allocations are also under competing interests of hydropower generation and releasing water for drinking. The Public Utilities Commission of Sri Lanka (PUCSL) last week warned that if water releases for hydro generation were not reduced power shortages could take place in April.

Sri Lanka's 'Yala' minor irrigation season that has already wound up is also under threat. Under good weather conditions about 500,000 hectares of crop can be grown, but only around 394,000 hectares were sown this year, according to official data.

Due to a weak crop, carryover stores of rice have also diminished, Punyawardena said, predicting that after March rice stocks could tighten. Last week Finance Minister Ravi Karunanayake also announced that the Government would import 300,000 stocks of rice and a buffer stock to cushion against possible shortages and also keep the lid on rice prices that have shown signs of increasing lately.

Meanwhile, the Paddy Marketing Board (PMB) is to release about 150,000 metric tonnes of paddy stocks to private rice millers from today as an immediate remedy to bring down the price of rice for the festive season, PMB Chairman M.B. Dissanayaka was reported as saying over the weekend.

"We will sell the paddy at higher prices than what we purchased at from the farmers," Dissanayaka stated. He added that initially paddy stocks would be distributed to small- and medium-scale rice millers and later to wholesale millers in every district.

The move came as a measure to maintain steady rice prices in the markets where prices have risen significantly.