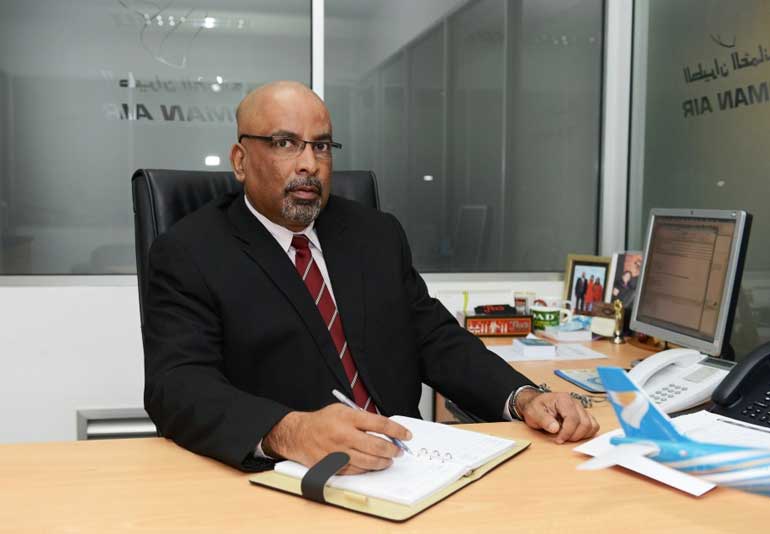 Oman Air Sri Lanka and Maldives Country Manager Gihan Karunaratne
Oman Air will start double daily flight operations from Colombo to Muscat from 28 October onwards. The national carrier of the Sultanate of Oman will now offer a total of 14 flights per week and two flights per day between the two countries.

Oman Air's daily morning flight will depart from Colombo at 8:45 a.m. and the evening flight will leave at 17:45 p.m., with the exception of the Wednesday evening flight, which will depart at 20:30 p.m. Commenting on Oman Air's increased flight frequency, Oman Air Chief Officer Sales Mahfood Ali Saleem Al Harthy stated: "We are delighted to increase flights between Colombo and Muscat. Increasing our flight frequency to Muscat is part of our long-term plan to drive strategic growth and expansion in the region. We have seen an immense demand for flights between both destinations and by adding an additional four flights to our weekly schedule, we hope to strengthen the Colombo-Muscat route and solidify its position as a significant route in our global network."

In 2009, Oman Air commenced its operations in Sri Lanka and by 2011, the airline was offering five flights per week to Muscat in Oman. In 2012, the airline commenced daily flights and increased its frequency to 10 flights per week. In 2014, the load factor was at 76% and Oman Air has maintained its passenger load factor and currently operates flights at an average of 74%.

Commenting on Oman Air's continued growth, Oman Air Sri Lanka and Maldives Country Manager Gihan Karunaratne stated: "Oman Air has achieved significant growth in a relatively short period of time and we hope that by operating two daily flights to Muscat, we'll be able to meet the growing demand for flights to Oman, the Middle East and Europe. With this increased flight frequency, Oman Air will also contribute towards the growth of the local tourism industryby bringing more people from around the world to Sri Lanka."

Oman Air recently introduced its Boeing 787 Dreamliner to its fleet. The all-new commercial aircraft offers passengers the ultimate big-jet experience and increased speeds of travel. The new aircraft is renowned for its superior efficiency and will open up access to new direct routes, whilst offerings passengers exceptional comfort. As part of its global expansion, Oman Air also recently launched three strategic new routes in the Asian region and now offers direct flights from Muscat to Singapore, Goa and Dhaka.

Since Oman Air commenced operations in Sri Lanka in 2009, the airline has experienced momentous growth and constantly provides its passengers with added value through promotions and special offers. Oman Air is renowned for offering a world-class service and has an ongoing commitment to delivering quality, comfort and a seamless passenger experience. This has resulted in the airline receiving significant international recognition and high acclaim at the Skytrax World Airline Awards.