Lakshman D. Niyangoda has been appointed to the Board of Commercial Bank Plc as a Non-Executive Independent Director.

Niyangoda is presently the Managing Director/CEO of A. Baur and Company Ltd. and counts over 30 years of experience with the company. He is also a Director of Baur Asia (Pte) Ltd., Singapore.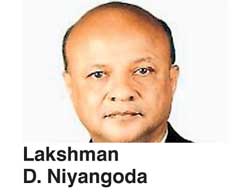 He holds a Bachelor of Science (Agriculture) Degree from the University of Peradeniya.

Niyangoda also served as a member of numerous professional bodies, including the Council for Agricultural Research Policy of Sri Lanka, the Standing Committee of Agriculture and Veterinary Studies, the University Grants Commission and the Faculty of Agriculture, University of Peradeniya.

With the latest appointment the Board of Directors of Commercial Bank Plc comprises K.G.D.D. Dheerasinghe (Chairman), Preethi Jayawardena (Deputy Chairman), J. Durairatnam (Managing Director/CEO), S. Swarnajothi, H.J. Wilson, S. Renganathan, A.K.W. Jayawardane, K. Dharmasiri and L.D. Niyangoda.