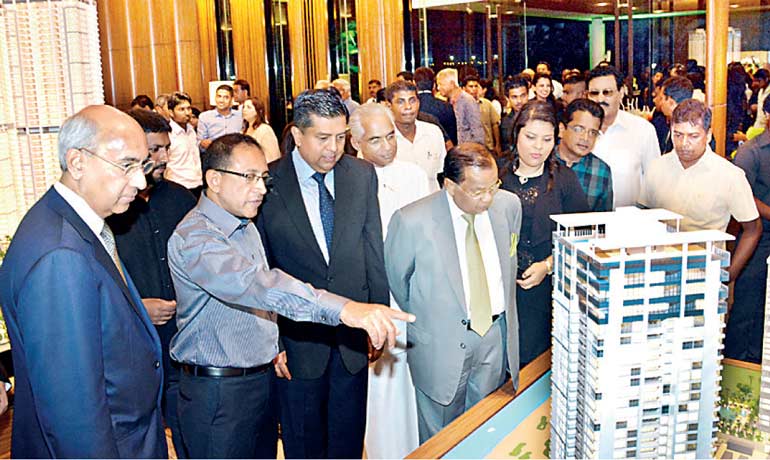 Investment Promotion and Highways Minister Kabir Hashim enquires about the Shangri-La's multibillion rupee integrated development project in Colombo on Friday at its launch. Shangri-La Asia Executive Director and CFO Madhu Rao (left), State Defence Minister Ruwan Wijewardene, Shangri-La Hotels Lanka and Shangri-La Investments Lanka Director Sajad Mawzoon, Investment Promotion and Highways Deputy Minister Eran Wickramaratne and Colombo Mayor A.J.M. Muzzamil are also present - Pic by Upul Abayasekara
Investment Promotion and Highways Minister Kabir Hashim on Friday welcomed world famous hotel brand Shangri-La as it kicked off the sales push for its twin tower serviced apartments in Colombo, which are part of its $ 720-million investment in Sri Lanka.

Approved under the previous regime, Shangri-La's integrated development includes a 540-room hotel in Colombo (slated to be opened during the second quarter of 2017) and an office tower and twin tower with 50 floors 'The Residences at One Galle Face (opening during the fourth quarter of 2017) with 406 residential units and 16 penthouses, offering eight duplex and eight simplex units. Separately, it is also building a resort in Hambantota which is slated for opening later this year. Speaking at the inauguration of the promotional sales gallery of The Residences at One Galle Face by Shangri-La, Minister Hashim acknowledged Shangri-La's "huge investment", part of which is already invested and generates several jobs.

"We are looking at Shangri La of not stopping here but this is the start. We invite Shanrgi-La to take further steps in this time of opportunity," the Minister added.

He said that during a meeting of the Economic Subcommittee chaired by Prime Minister Ranil Wickremesinghe, Colombo Mayor A.J.M. Muzzamil sought Government help for funds to boost infrastructure support services for Shangri La particularly to deal with sewerage.

"The Prime Minister immediately approved Rs. 800 million as a Budget allocation. That is the new thinking in this Government. Less bureaucracy, more action with proper transparency and accountability," emphasised Minister Hashim.

He also said that the new Government was keen to make Sri Lanka safe for investors by providing the right climate, strong rule of law, political stability and consistent policy.

"You may come in as a foreign investor but once you are here, you are one of us," Hashim added.

He also said that the ordinary people in the city and outskirts who helped to make it a thriving hub would not be forgotten when making room for large-scale projects. They would be relocated and given improved housing facilities.

"The Government is committed to equitable growth whilst ensuring Sri Lanka is a land of opportunity for all," stressed Minister Hashim.

Noting that Sri Lanka was known for great beaches and friendly faces, the Minister said that the country was one of the fastest-growing tourist destinations in Asia and growing business travel will require more world-class hotels such as Shangri-La.

Shangri-La boasts of 90 hotels and resorts in 21 countries with 28,000 hotel rooms. It employs 50,000. It also has an extensive portfolio of investment properties covering office complexes, serviced apartments and retail malls.