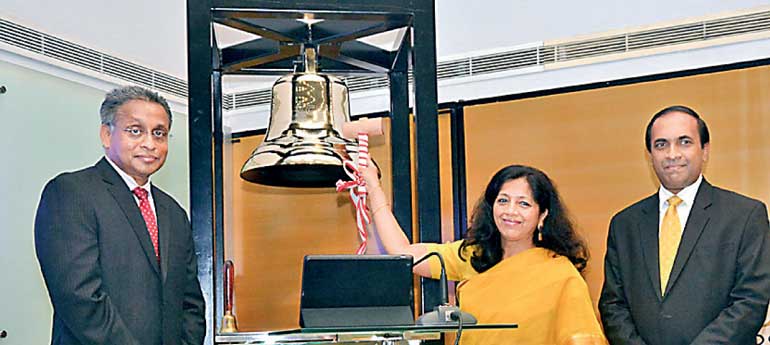 Nestlé Lanka Managing Director Shivani Hegde ringing the Opening Bell with Colombo Stock Exchange Chairman Vajira Kulatilaka (left) and Colombo Stock Exchange CEO Rajeeva Bandaranaike (right)
Nestlé Lanka PLC (NEST) opened trading on the Colombo Stock Exchange (CSE) yesterday. This event was yet another in a series of market opening ceremonies, featuring the companies from the S&P SL20 index.

Managing Director Shivani Hegde, Non-Executive Director Mahen Dayananda, Non-Executive Director Ranjan Seevaratnam, Executive Director and Vice President – Finance and Control Jagdish Kumar Singla, Assistant Vice President – Corporate Affairs and Communications Bandula Egodage, Company Secretary and Legal Counsel Lioshon Rajapakshe from Nestlé Lanka PLC and Chairman Vajira Kulatilaka, CEO Rajeeva Bandaranaike and the senior management from the CSE took part in the market opening ceremony.

"Today we are honoured to be one of the top five listed corporates featured amongst some of the most respected entities in Sri Lanka. The CSE has played an integral role in helping corporates ensure governance and transparency in their operations providing a well-defined framework to work within. Our position as the fourth most valuable company in terms of market capitalisation not only boosts our credibility as a top corporate within the local industry, but moreover it enhances our appeal as a potential company for local investors to invest in," Hegde said.

"Nestlé contributes to the capital market by doing very well in terms of profitability and thereby helping present a valuable investment opportunity for investors. We are always looking to showcase Sri Lanka and our capital market in a new light to the world and we hope that you will aid us in this endeavour," CSE Chairman Vajira Kulatilaka said.