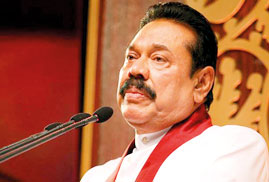 Former President Mahinda Rajapaksa yesterday expressed fears that he will be the next to be arrested if the present situation continues.

Rajapaksa who is now a Member of Parliament, made this allegation after paying homage to the Temple of Tooth in Kandy.

"If this continues, not only me but Namal, Gotabaya, Basil, Wimal, Rohitha, and Kumara Welgama will also be arrested," Rajapaksa told journalists gathered outside the Temple.


The former President dismissed the allegations as politically motivated. Rajapaksa also vowed that he would not leave the Sri Lanka Freedom Party (SLFP).