Former President Mahinda Rajapaksa yesterday lashed out at his successor for revamping the Sri Lanka Freedom Party (SLFP) and policies including changing the fertiliser subsidy insisting the efforts were targeted at "destroying the party completely."

SLFP members who have stood up against this capitulation and have tried to maintain the identity of the party have been penalised, Rajapaksa said in a statement. He charged that several SLFP electoral organisers, Prasanna Ranatunga, Dilum Amunugama, KanthiKodikara, Dhanasiri Amaratunga, Duminda Silva and Senarath Jayasundera among others have been removed from their positions.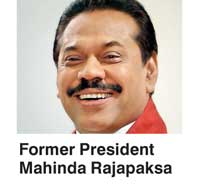 The two Parliamentarians, among them Prasanna Ranatunga and Dilum Amunugama, sat in the opposition and played a major role in protecting the identity of the SLFP both inside and outside Parliament, he noted.

"Members of our party should ask themselves as to whose interests are served by removing such Parliamentarians from their positions as electoral organisers. Apart from all this, members of the SLFP in the Government have had to stand by and watch while their colleagues serving in the opposition are systematically vilified as rogues and murderers and dragged before Police investigative bodies, commissions of inquiry and the courts," he said in the statement.

Rajapaksa insisted on the existence of a concerted effort on the part of the UNP to "destroy the SLFP completely".SLFP members in the Government should decide which is more important to them, the UNP-led Government or the SLFP through which they were elected last August to represent the people on an anti-UNP, anti-Government platform, Rajapaksa advocated.

President Maithripala Sirisena is duty bound as the SLFP Chairman to look after the party rank and file, uphold party policies and protect the identity of the SLFP even though he was elected President on UNP votes, the MP said.

"I take pride in the fact that I built the strongest SLFP Government in our party's history during my tenure in power. That Government was so strong that it could be defeated only by conspiratorially creating divisions in the party and a section of the SLFP joining the UNP in its campaign of vilification and false propaganda against my Government. The UNP by itself was in no position to defeat the SLFP Government that I built. Even after the defeat of my Government, the President of the country is the present Leader of the SLFP. The Cabinet is equally divided between the UNP and the SLFP in what has been called a National Unity Government. Yet the policy of this Government is decided by the UNP, resulting in a situation where the SLFP has been held captive and forced to follow the UNP line. The SLFP is now in danger of losing its identity as a political party," the statement added.