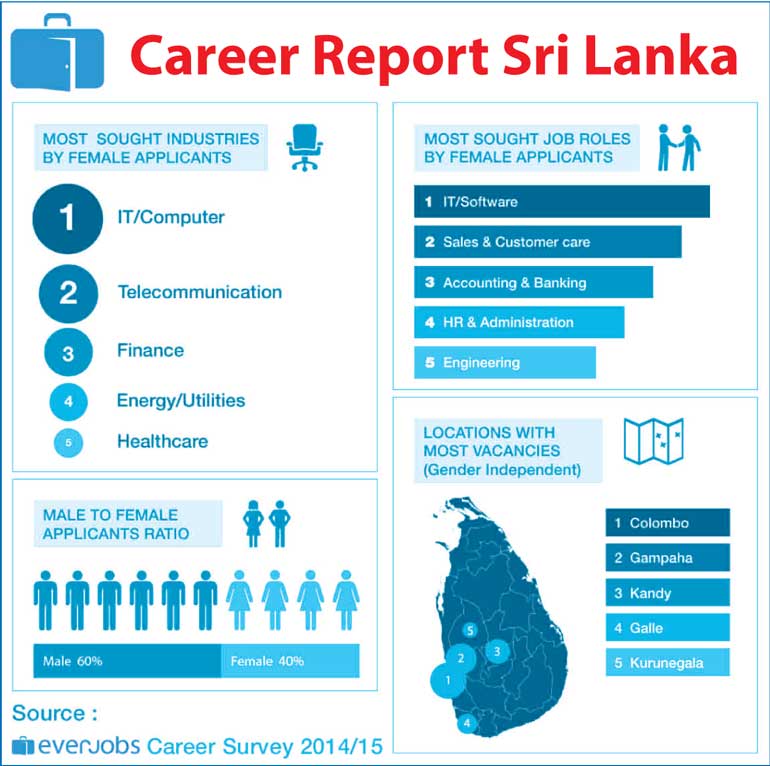 Female labour force participation influences economic growth potential and acts as an indicator of the economic empowerment of women.

The latest Everjobs Career report reveals that the younger generation of women in Sri Lanka's workforce are defining career differently by increasingly pursuing job roles that in previous generations were dominated by men. As per the report, more female applicants actively seek out job roles in the IT, telecommunication, finance, energy, utilities and healthcare industries.

According to the Department of Census and Statistics, the estimated economically active population of Sri Lanka was about 8.9 million in the first quarter 2015, of which 63.3% are males and 36.7% are females. Within the economically inactive population, which also comprises everyone involved in household duties, the disequilibrium is even starker with 25.9% being males and 74.1% females.

Looking at female labour force participation rates around the world, this suggests that there is a large untapped reservoir of female manpower that could be utilised for the development of the country, while empowering women and benefitting society as a whole.


The report assembled by monitoring the traffic on Everjobs.lk over the past five months suggests that female participation in Sri Lanka is rapidly increasing, especially in traditionally male-dominated industries.

"As the fastest growing job portal in Sri Lanka, we are glad to be able to provide strong data-based insights on the changes and developments in Sri Lanka's labour market. Personally, I am quite optimistic that the data from the latest career report suggests that soon we might see policy level changes to increase female applicants' access to demanding job roles as well as women-friendly businesses. It would also help substantially, if the major stakeholders involved in the recruitment process, such as employers, recruitment agencies, and government were to jointly identify strategic priorities for further female labour market integration," said Everjobs Sri Lanka Managing Director SaschaWoelk.

Woelk adds: "Yet, at the frontline, it will always be employers, who need to make a deliberate effort to give women a fair chance to have the career that they aspire to. Looking at how closely gender parity is tied to GDP growth around the world, this effort will surely be of great value to Sri Lanka."

Everjobs is a job portal currently operating in Sri Lanka, Bangladesh, Myanmar, Cambodia, Cameroon, Senegal, Ivory Coast and Uganda. Launched in March 2015, Everjobs aims to become the leading job portal in fast growing economies finding the right match between employers and candidates. The company is backed by the Asia Pacific Internet Group (APACIG).