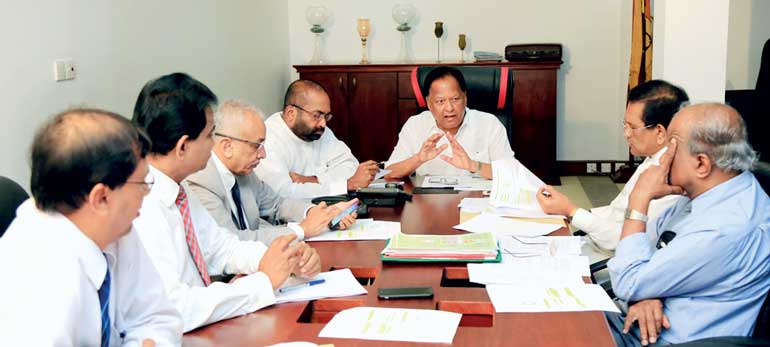 By Charumini de Silva

Top ministers yesterday held a special meeting to discuss and draft guidelines to increase cigarette tax up to 90%, ahead of presenting it for Cabinet approval in the coming weeks.

According to a proposal made by Health Minister Dr. Rajitha Senaratne the Government has decided to increase the tax imposed on tobacco companies to 90% and the relevant Cabinet paper is expected to be submitted to the Cabinet eventually.

Development Strategies and International Trade Minister Malik Samarawickrama, Power and Renewable Energy Minister Ranjith Siyambalapitiya, Special Assignments Minister Dr. Sarath Amunugama, Health Minister Dr. Rajitha Senaratne and Megapolis and Western Development Minister Patali Champika Ranawaka were present at this special meeting held at the Power and Renewable Energy Ministry.

According to officials present at the meeting the Cabinet appointed committee had discussed further on the proposed tax hike on cigarettes and drafted guidelines which need to be presented to the Cabinet of Ministers. The meeting was also attended by officials from both Finance and Health Ministries.

"The Government needs to take a policy decision on whether the country needs such an industry (tobacco) to exist or to shut it down completely," officials who wished to remain anonymous told the Daily FT.

In the meantime Health Minister Dr.Rajitha Senaratne, at the cabinet briefing on Wednesday, reiterated his pledge to impose the tax increase and emphasised he would not be deterred by what he termed "unethical" overtures by the "tobacco lobby."

"Representatives of the cigarette company have sought meetings with me but I have refused. I am entirely dedicated to this policy and we will ensure it is implemented. The tax increase also has the full backing of the President," he said.

In addition the Minister pointed out that he had already requested the Government to regulate all taxes imposed on health services to improve transparency.

Ceylon Tobacco Company is the single largest tax payer in Sri Lanka accounting for Rs.91.6 billion in 2015, which is about half of the Government's total tax revenue. An excessive increase of taxes could reduce consumption resulting in lesser taxes for the Government, analysts have warned.