As pressure mounts for the removal of Central Bank Arjuna Mahendran when his term ends on 30 June, United National Party big guns launched a staunch defence of the controversial official and insist that he would not be replaced as head of the country's financial regulatory bank.

Leader of the House and Minister of Higher Education and Highways, Lakshman Kiriella told journalists at a press briefing yesterday that Mahendran was not likely to be replaced when his term ends this month.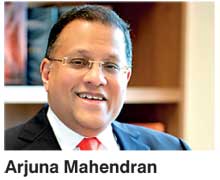 "I am not the appointing authority. But I don't think he will be replaced. There will be no change," Kiriella told media personnel during a news conference that became quite heated over the Central Bank Governor's issue.

Kiriella insisted that Mahendran had been 'cleared' by the Supreme Court, which dismissed a fundamental rights application filed by several good governance activists in May 2015.

"So far all the problems are related to allegations against the Governor. None of them have been proven," Kiriella said, chuckling.

He said the controversy was created by a Goebbelsian effort by the media and members of Parliament to try Mahendran in a court of public opinion.

"This is what is called the Goebbels theory. If you say something enough times it becomes true."

Kiriella added that he had faith in the decision of the Supreme Court.

The news conference was held one day before the issue was likely to be taken up at the Cabinet meeting today. Controversy has plagued the Central Bank Governor, with anti-corruption activists and Parliament oversight committees stepping up pressure on the Government to replace Mahendran when he concludes his 18 month term on 30 June. (DB)
Joint Opposition claims will have use for FCID when it returns to power!
By Chamodi Gunawardana

A group of Joint Opposition members yesterday said the Financial Crimes Investigation Division (FCID) should continue until the Rajapaksa backed segment of the SLFP returns to power to take legal actions against fraudulent officials of the current Government.

Commenting over the Government's 'unpredictable' decision to dissolve the FCID, MP Mahinda Yapa Abeywardena claimed the Joint Opposition wants FCID to remain until it obtains power again to conduct unbiased inspections over Government heads including Central Bank Governor Arjuna Mahendran. However, top Government officials have denied that the FCID would be rolled back.

"We need the FCID to complete the ongoing investigations against some politicians and officials of this Government. We expect to bring the real culprits before the law via the FCID when we come in to power again," Yapa said.

"We will also take legal action against the Treasury Secretary and Defence Ministry Secretary via FCID even if they have retired," he stated.

"We will hold fair investigations against accusers even if politicians are among them," he added.

However Abeywardena insisted such investigations would not be used for political revenge.

"The Government has attempted to take political advantage by summoning politicians of the Joint Oppositions before the FCID and giving publicity for false allegations levelled against them. We would not repeat such practices," he said.