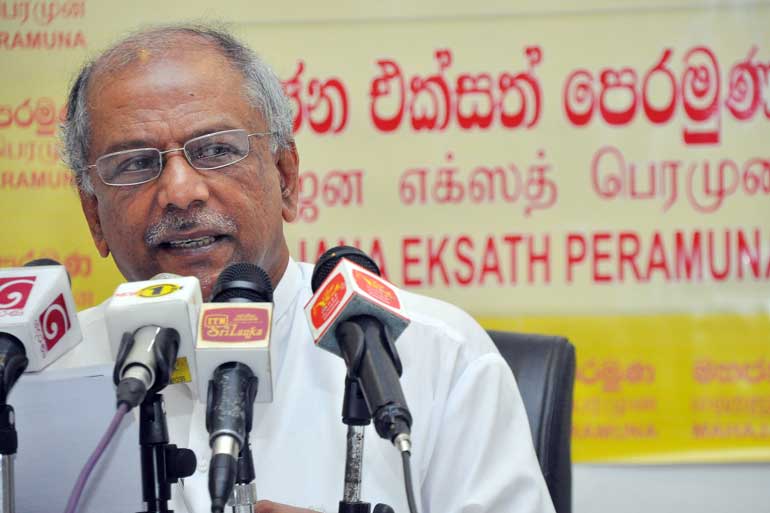 MEP Leader Dinesh Gunawardane adressing the press briefing yesterday

– Pic by Shehan Gunasekara
By Chamodi Gunwardana

The Mahajana Eksath Peramuna (MEP) yesterday alleged that the bills of taxation tabled under the February interim budget were a violation of the Constitution.

MEP Leader and MP Dinesh Gunawardena charged that the bills had been rendered invalid due to the delay in obtaining approval.

"Before the formation of the new Government, a number of draft taxation bills were tabled by the Caretaker Government. According to the Standing Orders of Parliament, those bills should be passed within 90 days from the tabled date. Up to now they have not been approved by the Parliament," he said.

"The Opposition posed questions to Speaker Karu Jayasuriya and stated that these bills were invalid. We charged that some of the bills violated the financial regulations, the Constitution and Parliament Standing Orders," he further explained.

Gunawardena went on to say that the Speaker advised the Government to ensure such incidents did not occur again.



"The Speaker complied with our viewpoints and stated that there were some errors in these bills. He further noted he would seek legal advice from the Attorney General and report back to the House regarding the corrections of the bills. However, this has not happened to date," he expressed. "MEP Vice Chairman Somaweera Chandrasiri lodged a petition against the Telecommunication Levy Bill drafted by 'good governance' Government and the matter was taken up to Chief Justice. The bill was drafted to exploit billions of rupees as taxes from telecom providers as well as subscribers. After a long legal process the Government withdrew the bill. If it is passed, the Treasury should be refunded those billions from the collected revenue," Gunawardena asserted.

"According to the ethics of Parliament, the Finance Minister must resign from his position, because he was the person who tabled these failed bills," he claimed.
MEP wants Judicial Review System again
The Mahajana Eksath Peramuna (MEP) Leader and MP Dinesh Gunawardena yesterday said that the Government should enact the Judicial Review System again to analyse acts which have been approved by Parliament.



"Currently we don't have a method to question a tabled bill if it had an error. A few years ago a Judicial Review System was established with a panel of legal professionals and it was able to find out failures of each act and highlighted the errors. It impeded the implementation of failed acts. We believe that system should be brought back again for better act implementation," Gunawardena stressed.