Calls for political, institutional reform to smooth way for British investments, PPP
Welcomes opportunity to engage with
Sri Lanka following result at last presidential elections
Says SL has got more qualifications per capita than almost any other emerging economy
Meets Finance Minister, CB, SEC chiefs and Colombo Mayor
By Channa Fernandopulle

Sri Lanka must unlock pent-up growth through concerted political and institutional reform with an emphasis on education and closing the skills gap, according to visiting Lord Mayor of the City of London, Alderman Alan Yarrow.

Speaking exclusively with Daily FT, Yarrow expressed great optimism over the nation's economic prospects given its well-educated population and encouraging post-war growth. However, he stressed that the effective resolution of human rights issues and a general election would be crucial first steps towards a brighter future.

"We've been watching Sri Lanka for some time and we saw the freezing effect that 30 years of civil unrest caused. We believe that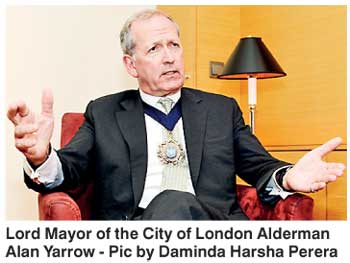 there has been huge pent-up growth in the country and after the last presidential election Sri Lanka is in a very interesting position going forward.

"I wanted to come to Sri Lanka because I do think that you've got a wonderful opportunity here. You've got more qualifications per capita in Sri Lanka than almost any other emerging economy and so the people of this country are in a better position understand the point of good governance and why it is needed," Yarrow stated.

Yarrow's three-day visit to Sri Lanka – which marks the second visit by a Lord Mayor of London to Sri Lanka since 1982 - saw the Lord Mayor meeting with the heads of the Colombo Stock Exchange, Securities and Exchange Commission and the Central Bank of Sri Lanka and the Minister of Finance, Ravi Karunanayake, in addition to paying a courtesy call to the Mayor of Colombo A.J.M. Muzammil.

Commenting on some the potential avenues for British investment into Sri Lanka, Yarrow noted that ICT, education, transport infrastructure, healthcare and the renewable energy sectors had all been identified. However, he acknowledged that discussions were still at a preliminary phase.

"This is the second official visit [of a British business delegation] since the new President took office so it's early days. Even now we are able to recognise that there is a lot of opportunity here. If you look at education in Sri Lanka relative to ASEAN, you can really see where you stand and you can see that the opportunities are immense," he enthused.

Commenting on apolitical economic roadblocks to Sri Lanka's development, Yarrow pointed to Sri Lanka's relatively high debt burden and its potential impact on infrastructure development and called for improvements in governance policies which would help attract greater foreign direct investment into the island.

"In London we manage something like $ 2 trillion in portfolio investments, Sri Lanka hardly even features into that at the moment so there is a share of that capital allocation which can be taken and I think there are an awful lot of options that you could look to," Yarrow noted.

He added that discussions over the potential for public-private-partnerships (PPP) involving British companies and the Sri Lankan Government had also been initiated during his discussions with senior Government officials. However, Yarrow declined to comment on such initiatives due to their preliminary nature.

"Sri Lanka has a huge advantage over a number of the emerging economies and now is the chance for the Sri Lanka community to show how good you are. There are plenty of good companies here that I think have been held back by the system that was in place here for the last few years and I'm optimistic and enthusiastic about this island's prospects going forward," he stated.