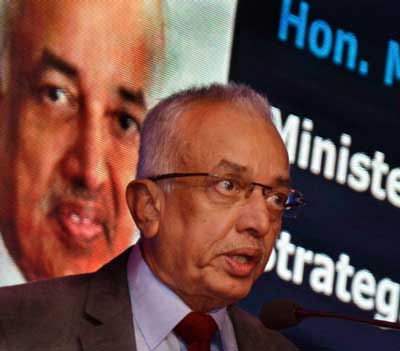 Development Strategies and International Trade Minister Malik Samarawickrama last night credited his success thus far to the Chartered Institute of Management Accountants (CIMA).

Being a Fellow of the Institute (FCMA), Minister Samarawickrama who was the Chief Guest at the CIMA Business Leaders Summit inauguration said: "I consider it a great privilege to be here this evening since most of what I have achieved in life can be attributed to being a Fellow of the Chartered Institute of Management Accountants. What I have learnt from the Institute is to think rationally and take calculated risks and fortunately, I have been able to reap the dividends."

Focusing on national issues, the Minister also said that the current Unity Government had to inherit a close-minded regime and there was a dire need for a change of mindsets in people, the public and private sectors and the media.

"We still have the island mentality; therefore achieving the desired change is not an easy task. However the Government of President Maithripala Sirisena and Prime Minister Ranil Wickremesinghe is determined to make that change," Minister Samarawickrama added.