Parliamentarian and former president Mahinda Rajapaksa yesterday renewed his commitment to protect Sri Lanka, especially from foreigners whom he said were looking to take over land which belonged to the people.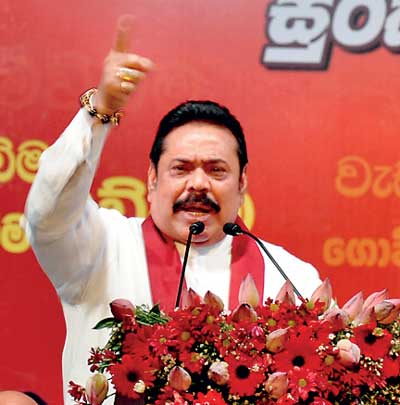 "Not only in the South, the Government is trying to sell resources in the North as well," Rajapaksa told the Joint Opposition and Sri Lanka Podujana Peramuna May Day rally at Galle Face attended by massive crowds.

He also pointed out that people did not give a mandate for the Government to sell the resources of the country.

"Can they achieve reconciliation by selling the resources of the country?" he asked.

Rajapaksa also said the Government has a phobia of "sweating and shaking" when there are suggestions to hold elections.

"We accepted their (Government) challenge. We held the rally at the Galle Face Green. Now our ultimatum for this Government is to hold the election without further delay," he added.

"They would not dare to hold it now anyway," Rajapaksa stressed.

The former president also said that the country today suffered due to the debt incurred by the Government and due to the controversial bond sale issue.

"The Government turns a blind eye to charging the wrongdoers," he added.

Rajapaksa also vowed that this would be the May Day rally which made an effort to form a new Government and brought an end to the present one.