The Board of Directors of DFCC Bank Plc has appointed senior banker Lakshman Siva as the new CEO with effect from 16 August.

The move follows incumbent Arjun Fernando completing his five-year contract at DFCC Bank.

Lakshman has been with DFCC Bank for the past 30 years and is currently Deputy CEO and Executive Director. He was appointed to the Board of DFCC Bank in October 2015.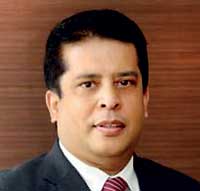 "The proposed appointment will lead to an orderly transition in the leadership role and DFCC Bank Plc will be able to continue building on its strong franchise in Sri Lanka's financial services industry," Fernando said in a statement.

Lakshman as Deputy CEO has been providing leadership and management oversight to the bank's operations including lending and also served as the CEO/Executive Director of DFCC Vardhana Bank Plc during the period January 2010 until the amalgamation on 1 October 2015.

He was also seconded from DFCC Bank to the services of DFCC Vardhana Bank in 2003 and functioned as Chief Operating Officer of DFCC Vardhana Bank from 2003 until his appointment as CEO.

Lakshman started his professional career with the Department of Inland Revenue and joined the DFCC Banking Group in 1987. He holds a B.Com (Special) from the University of Kelaniya and an MBA from the Postgraduate Institute of Management of the Sri Jayawardenapura.