By Chamodi Gunawardana

Public Administration, Local Governm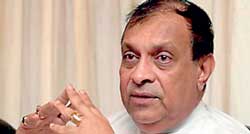 ent and Democratic Governance Minister Karu Jayasuriya yesterday said that people who retired before 2006 could gain increased pension from the next month onwards.

Addressing a media briefing yesterday, Jayasuriya revealed that the Government was preparing a new circular which would ensure that a fair amount was paid as pension to all retired senior citizens.

"There was an amount gap between retired senior citizens who retired before 2006 and after it. People who retired before 2006 received a pension which was less than that given to those who retired after 2006. This was because the past Government used the Public Administration Circular No.06/2006 to provide pension," Jayasuriya expressed.

"Government employees who got pension under Public Administration Circular No. 1997 will benefit from this too," he added.

Jayasuriya further asserted that the Government would pass the circular regarding this new pension scheme as soon as possible. He also stated that that circular would be implemented within July.