By Chamodi Gunawardana

The Janatha Vimukthi Peramuna (JVP) yesterday charged that the United National Party (UNP) MPs should refer the Committee on Public Enterprises (COPE) sub-committee report into the Central Bank Treasury bond issue, before make false comments over it.

Attacking statements m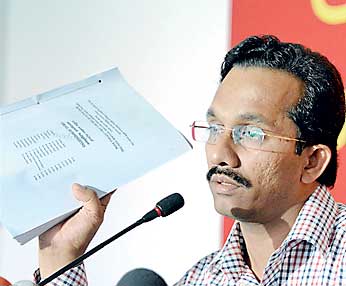 ade by UNP MP and Deputy Minister of Justice Sujeewa Senasinghe, JVP Parliamentarian and COPE sub-committee member Sunil Handunnetti refuted claims that the COPE report had failed to produce evidence of any fraud in the Central Bank.

"Deputy Minister of Justice Sujeewa Senasinghe has announced to the media that the COPE sub-committee report is rubbish and it does not mention any kind of fraud happened in the Central Bank. I would like to say: please refer the report again and find out the points which mention frauds related Treasury bonds," Handunnetti said.

He added that UNP MPs should not make statement about Central Bank Treasury bonds issue in order to advance their own political interests.

"We all know Central Bank Governor Arjuna Mahendran appointed by Prime Minister Ranil Wickremesinghe. Therefore Wickremesinghe and UNP want to protect him for the UNP's survival. However, they should not behave like that," Handunnetti alleged.

Handunnetti added that investigations into the Treasury bond controversy should not be halted as a result of the dissolution of Parliament.

"The Government cannot give any excuses to public over delay of investigations. They cannot stop the investigation by dissolving Parliament. We believe that COPE inspections must continue under the new Parliament too," Handunnetti emphasised.
---