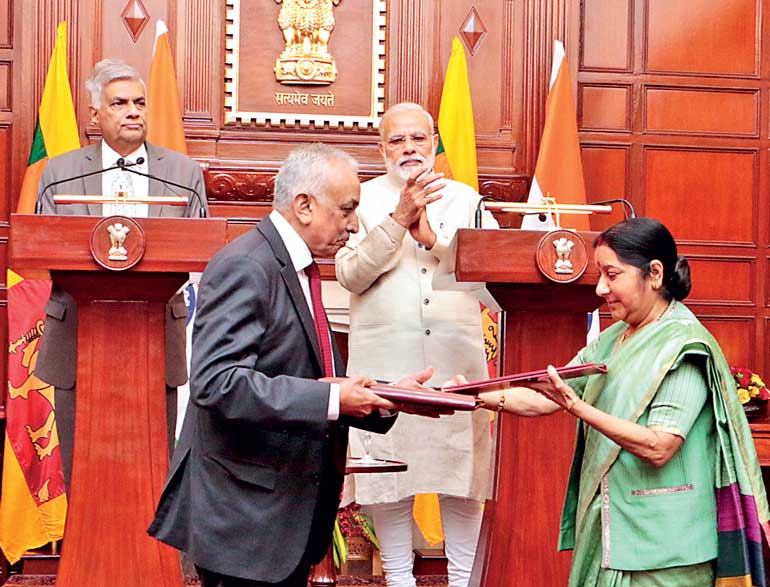 Development Strategies and International Trade Minister Malik Samarawickrama and India's Foreign Minister Sushma Swaraj exchange the MoU signed between the two countries earlier this week as Indian Prime Minister Narendra Modi applauds. Prime Minister Ranil Wickremesinghe is also present
New Delhi: A joint working group will be set up between Sri Lanka and India to explore the development of roads, petroleum development, port and other industries in the eastern port town of Trincomalee in the island nation, India said.

Ministry of External Affairs (MEA) Official Spokesperson GopalBaglay said the joint working group will deal with the further discussions on port and refinery and other infrastructure-related matters in Trincomalee.

The two Governments signed a Memorandum of Understanding (MoU) for cooperation on economic projects, seeking to continue building on traditionally-friendly relations between the two countries and also enhance the bilateral relations through more economic investment and development cooperation, the spokesman said at a press briefing in New Delhi Thursday.

With the objective "our neighborhood first and foremost," India's MoU with Sri Lanka seeks to achieve greater economic investment and development cooperation, in a progressive manner, through joint ventures and other cooperative activities that will ensure the valuing of people in the two countries, he said.

The MoU was signed Wednesday during Prime Minister Ranil Wickremesinghe's meeting with Indian Prime Minister Narendra Modi.

The MoU has identified certain projects in certain areas of cooperation and the areas are in infrastructure, agriculture, and livestock.

Specific projects that have been mentioned in the MoU include re-gasified LNG fired 500 MW plant, LNG terminal with a floating storage regasification unit in Kerawalapitiya, 15 MW solar power plant in Sampur, and the Upper Tank Farm in Trincomalee, which will be jointly developed by India and Sri Lanka.

A joint working group will be set up, between Sri Lanka and India to explore the development of roads, petroleum development and other industries in Trincomalee.

It has been identified that industrial zones, especially, economic zones, roads segments, railway sectors, and a container terminal in Colombo will be developed as part of the joint venture.

"These are in the sense of a road map, of objectives and agenda points. All these will require further discussions for the negotiations, specifically the upper tank farm," the spokesman said.

The lower tank farm has been developed by Lanka IOC but in order to attain full utilisation and maximum exploitation of the existing potential and full development, the upper tank farm also should be developed, which requires more investment and more resources, he explained.

"In the spirit of partnership, India offered to the Government of Sri Lanka to form a joint venture and that idea is contained in the MoU. This needs to be further discussed and details need to be worked out," Baglay added.