High-profile biz team from Kanzai to Colombo
Bilateral trade up by 31% to $ 1.1 b
Following Prime Minister Ranil Wickremesinghe's recent visit to Japan, the first high profile business delegation from Kansai – Japan's second-largest industrial and financial region – arrived in Sri Lanka.

The delegation is interested in business ventures across all sectors and industries, a statement from the Commerce and Industry Ministry said. "This is the first-ever delegation from Kanzai to Sri Lanka and we are here to obtain in-depth understanding of the state of the fast-developing Sri Lankan economy. Our region has a strong interest to expand and collaborate with the Lankan business sector," announced Masayuki Matsushita, Vice Chairman of Kankeiren, the Kansai Economic Federation.

Matsushita was addressing the Lankan official team led by Commerce and Industry Minister Rishad Bathiudeen at the Ministry of Industry and Commerce. Matsushita, the leader of the 21-member high-profile business delegation from Kansai Economic Federation (Kankeiren) that met Bathiudeen, is also the Vice Chairman of Panasonic Corporation Japan. Among the members of this pioneering delegation were reps from Japanese multinationals such as Hitachi Zosen, Daikin Industries, Mitsui, Marubeni, National Panasonic,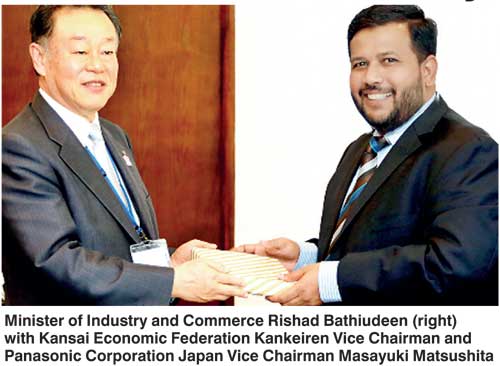 Sumitomo Corp, Kyoei Steel, Nippon Express, Takenaka Corp, Kinki Nippon Tourist, as well as representatives from Osaka City Government, Japan Bank for International Cooperation, Asia and Oceania Resona Foundation, and JICA (Kansai International Centre). Joining Bathiudeen were top officials of the Ministry of Industry and Commerce and its Department of Commerce, as well as Ministry of Industry and Commerce Secretary T.M.K.B. Tennekoon. Matsushita stated: "After the visit of Lankan Prime Minister Ranil Wickremesinghe to Japan in early October, bilateral cooperation between both countries and greatly strengthened. Kanzai is the second largest economy in Japan and includes mega cities such as Osaka, Kyoto, Kobe and Nagano. Our Kanzai Economic Federation (Kankeiren) is the leading economic institution formulating Kanzai regional economic policy for the central government. We have a 1,400 strong member body of businesses and companies that include top Japanese firms that are also global leaders-such as National Panasonic, Hitachi Zosen, Daikin Industries, Mitsui and Sumitomo Corp, etc., who are right here, sitting with me. We also want to know about future Lankan investment policy on economic development and sustainability as a South Asian logistics hub so that these info could be forwarded to Japanese industries and companies that are looking to invest across the board here and specifically in sectors of infrastructure, knowledge economy, manufacturing and services in Sri Lanka."

Since 1960s the region has experienced various environmental issues in Kanzai region-air pollution, rapid urbanisation and waste disposal, etc., and delegates have overcome these issues. Therefore the delegation was enthusiastic in offering cooperation in the environment sector – protection, sustainability related knowhow and technologies for Sri Lanka's environment issues from Kanzai.

Kanzai's regional GDP is such ($712 b in 2014) that if it is taken as a single country, it would rank as the 20th largest economy in the world, standing above Sweden and even Switzerland but just below Saudi Arabia. From time to time, institutions facilitating Lanka-Japan trade and biz have been stressing the need for correct information on Lankan business environment for Japanese businesses, citing such a lack to be "a major hurdle".

"Sri Lanka is in the process of improving its business information provision to global investors. Key Lankan Government agencies such as the BoI now provide information on Lankan investment and related regulatory environment. We welcome Kanzai investors to partner not only with our environment sector but across all sectors. Japanese investors are especially welcome to invest in Sri Lanka's automotive sector. Once manufactured, their products could be exported to India and Pakistan using our Free Trade Agreements with these two markets," said Bathiudeen.

In 2014, bilateral between both countries stood at $1.17 b, increasing by a strong 31% compared to 2013. Sri Lanka's imports from Japan were at $ 941 m, most of which were automotives. Japan is an important export market for Sri Lankan tea, apparel, seafood and coconut products but there is great unrealised potential for Lankan exports to Japan.

In 2014, 73% of Sri Lanka's imports from Kanzai region were used cars, followed by woven fabrics and TV sets while our exports to Kanzai region stood at $0.2 billion – consisting of fish, clothing accessories and manufactured rubber.