By Chamodi Gunawardana

The Ambassador of Japan Kenichi Suganuma yesterday said that the Japanese Government would like to extend its investment into agriculture development of Northern Sri Lanka.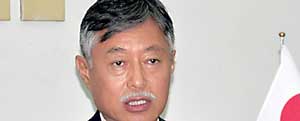 He noted that the Embassy of Japan has already cooperated with the Agriculture Department of Jaffna University in order to conduct agriculture development projects in Northern areas.

He went on to say that Japanese investments in Sri Lanka would be carried out through official or private investments.

"Under the official investment projects, Japan expects to extend its assistance to highway constructions and road development. We will also consider other projects such as reconstruction and economic development. We are holding discussions with the Government to measure the investment requirement and opportunities in Sri Lanka," he stated.

Commenting on private investments, Ambassador asserted that Sri Lanka is open to investors due to the new Government's transparent economic policy.

"A number of private investors are willing to invest in Sri Lanka and the expected investments are still in discussion stages. We believe Sri Lanka is the economic hub of the south Asian region," Suganuma said.