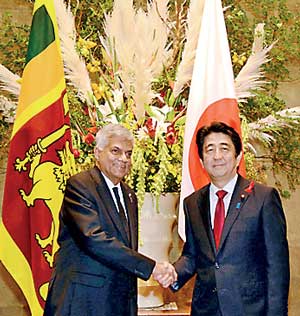 TOKYO (Reuters): Japanese Prime Minister Shinzo Abe pledged aid to Sri Lanka on Tuesday in a meeting with his counterpart Ranil Wickremesinghe and reiterated a promise to help Sri Lanka bolster its maritime security and to provide patrol ships.

Sri Lanka is moving away from the former Government's pro-China stance and has suspended most Chinese-backed infrastructure projects.

It is also trying to put more emphasis on ties with Japan, which dovetails with Abe's hope to counter a rising China.

Sri Lankan Government officials said in July they were seeking sources of cheaper funding to replace about 70% of the more than $5 billion in debt from Chinese lenders with loans at cheaper interest and longer durations.

Abe pledged about 45.4 billion yen ($377 million) in infrastructure aid, while Wickremesinghe said his Government would create a more favourable investment climate by ensuring transparency and good governance.