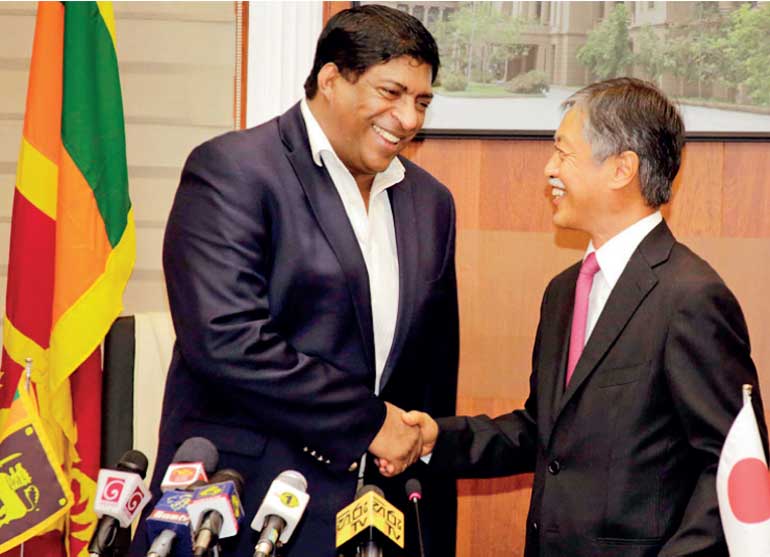 The Japanese Government has decided to grant a $ 90 million (over Rs. 13 billion) concessionary loan to implement Sri Lanka's development policies, the Finance Ministry said.

The declaration with regard to the $ 90 million loan was handed over to Finance Minister Ravi Karunanayake by Japanese Ambassador to Sri Lanka Kenichi Sugama at the Ministry of Finance on Saturday.

The Japanese Government has decided to grant this loan to Sri Lanka as assistance to enable the island to implement the development proposals made by its Budget 2016.

This loan should be repaid within 25 years and a seven-year grace period has been given to start repayment. Sri Lanka has to pay only 1.4% interest for this $ 90 million loan.

This is the first time in the diplomatic history of the two countries that Japan has granted a loan of this kind to Sri Lanka.

After handing over the document of declaration with regard to this loan to Finance Minister Ravi Karunanayake, Japanese Ambassador Sugama said that this loan had been granted as assistance to Sri Lanka to continue its sustainable development properly. He also said that another reason for granting this loan was to strengthen the diplomatic relations between Sri Lanka and Japan.

Meanwhile, Finance Minister Ravi Karunanayake said Japan had granted this huge concessionary loan as a result of the recent official tours of Japan by President Maithripala Sirisena and Prime Minister Ranil Wickremesinghe. The Minister also said that monetary assistance of this nature extended by the Japanese Government was clear evidence of the confidence kept in Sri Lanka by the international community.

Finance Minister Karunanayake further stated: "A country cannot be developed without obtaining loans. But we should use such loans for the benefit of the people instead of squandering them for personal comfort. We want to rebuild this sluggish economy. We said in the past that we would find necessary funds for development. Today you can see such predicted money is coming our way. Therefore we intend to share the development with all the people living at every corner of the island. Those who clamored in the past and questioned our farsighted development agendas are marching the streets today in fear of such predicted funds that have been reaching us from round the world," Minister Karunanayake said.